The US Senate has narrowly voted to advance President Donald Trump's Supreme Court nominee Brett Kavanaugh's nomination to a final vote.
Friday's vote – called "cloture" – was a test of support for the embattled nominee who has faced sexual assault allegations from several women.
All eyes are on four swing senators for Saturday's final vote.
Mr Kavanaugh's confirmation in the final vote on Saturday would tilt the court in favour of conservatives.
Following Friday's vote, Mr Trump tweeted that he was "very proud".
The nine-member panel has the final say on issues such as abortion, gun control and voting rules and justices are appointed for life.
Hundreds of protesters against Mr Kavanaugh were arrested in Washington, DC, on Thursday, including comedian Amy Schumer.
The protest was on the day that the FBI delivered the report of its inquiry into the allegations against Mr Kavanaugh.
According to the American Civil Liberties Union (ACLU), constituents have placed close to 40,000 calls to various senators, urging them to vote against the judge.
What was the cloture vote for?
Friday's vote was to curtail debate on the nominee.
It passed with 51 in favour. Republicans have a 51-49 majority in the Senate.
One of the key swing votes, Republican Senator Lisa Murkowski, voted against advancing Mr Kavanaugh. And Senator Joe Manchin of West Virginia, was the only Democrat to join the opposition in voting 'Yes'.
Cloture kick-starts a 30-hour period of discussions in the Senate, followed by the final simple majority vote on Saturday.
Given that Republicans have a razor-thin margin of control in the Senate, the party can potentially only afford another defection if it wants to confirm Judge Kavanaugh to the Supreme Court – assuming the two swing senators vote the same on Saturday.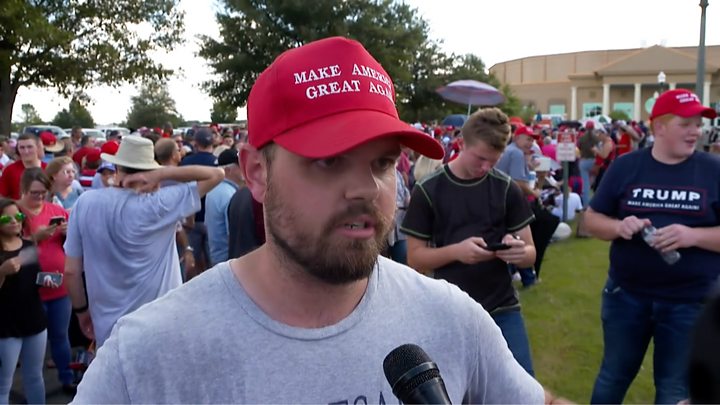 Complicating matters, the office of Republican Steve Daines said he was planning to attend his daughter's wedding in Montana on Saturday – meaning he might not be around to vote, or that the vote may be held open until he can return to take part.
As the vote neared, the judge defended his neutrality in a Wall Street Journal editorial titled, "I am an independent, impartial judge".
Addressing his angry testimony to the Senate Judiciary Committee, where he branded the allegations against him an "orchestrated political hit", he wrote: "I know that my tone was sharp, and I said a few things I should not have said."
What was the FBI inquiry about?
Mr Kavanaugh has faced sexual assault allegations from several women, most prominently Professor Christine Blasey Ford.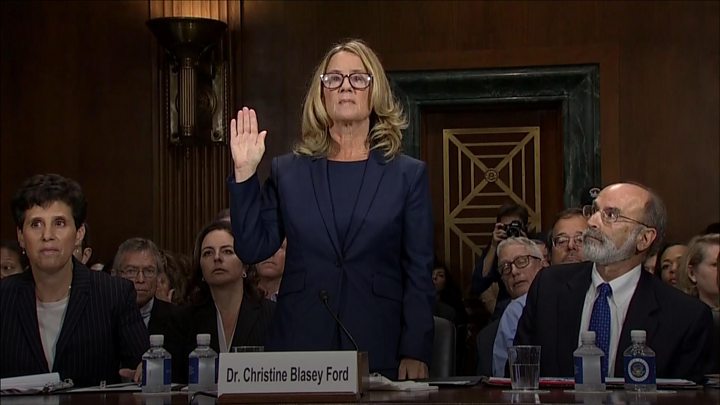 Both gave public testimony last week in which Prof Ford said she had been assaulted by Mr Kavanaugh when they were both teenagers in 1982.
Mr Kavanaugh denied the claim – and allegations that he drank to the point of memory loss at the time – in a feisty confrontation with senators.
After the testimony, President Trump agreed to a new FBI inquiry.
Federal agents are believed to have spoken to five witnesses regarding Prof Ford's accusations and another four other witnesses involving a separate accusation by Deborah Ramirez, who said the nominee had exposed himself to her when they were both at Yale University. He denies Ms Ramirez's allegations, too.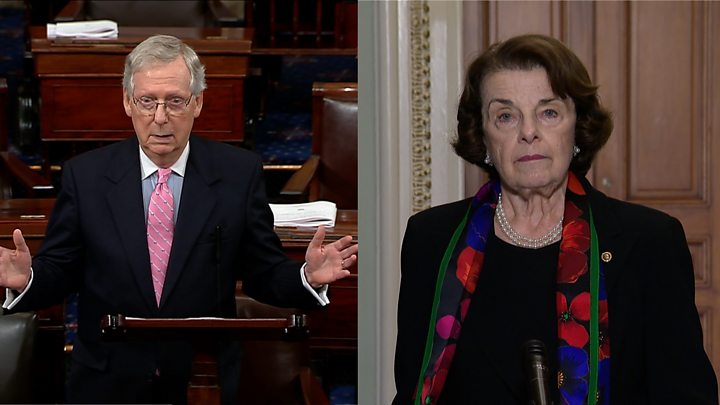 Mr Trump and his fellow Republicans said the new FBI report had cleared their nominee.
But Democratic senators said it had been incomplete.
The lawyers of both women have also complained that several witnesses they had offered to the FBI to corroborate their claims had not been contacted at all.
Source link