The first voice 12 young Thai footballers and their coach heard after nine days trapped in caves was that of Briton John Volanthen.
"How many of you?" he asked. "Thirteen? Brilliant."
It meant that, finally, they had been found.
Mr Volanthen and Richard Stanton had been called in by the Thai authorities along with another British caving expert, Robert Harper.
The trio arrived in Thailand three days after the football team went missing. More than 1,000 people have been involved in the operation, from all over the world.
The British Cave Rescue Council – the body for voluntary underground rescue in the British Isles – said it has been in contact with the British divers since their return.
Bill Whitehouse, the council's vice chairman, said the men had described the dive as "gnarly" in an email, meaning there were complications and problems.
It was a three-hour round trip, involving a 1.5km passage, partly flooded and partly open, he told BBC's Breakfast.
On hearing the boys had been found, Mr Whitehouse said: "It was really quite a moment, I can tell you."
However, he said that "moment of euphoria" for the divers and the boys would have been followed by: "Now what?"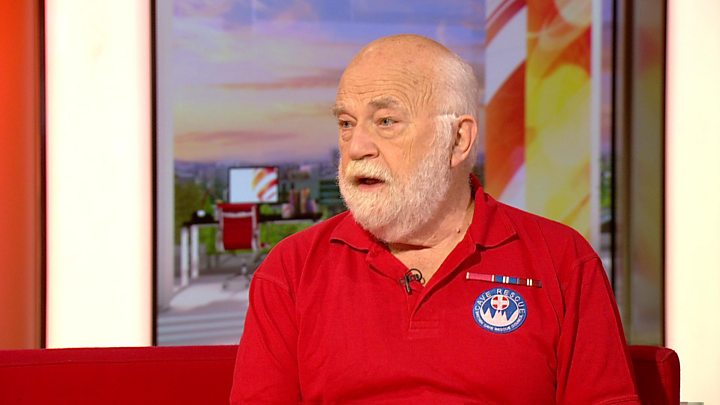 He said there would be planning meetings taking place to look at the options – either to get food and supplies to them so they can sit it out for longer or to consider how to bring them out.
The challenges would be more rain, he added.
"It is the monsoon season – they'll be lucky to have a few more days without rain.
"Diving them out is the last resort but might be the only possibility," he added.
It is believed Mr Volanthen and Mr Stanton are part of the South and Mid Wales Cave Rescue Team and attempted to rescue a trapped diver in France in 2010.
The South and Mid Wales Cave Rescue Team declined to comment on the Thailand rescue, while the BCRC said it does not name the cavers it sends on operations.
According to reports on the 2010 operation, Mr Stanton is a firefighter from Coventry who was also involved in the rescue of 13 British cavers in Mexico in 2004.
He was made an MBE in the New Year's Honours List at the end of 2012.
In a 2007 interview, he said he became interested in diving after watching a programme called "Underground Eiger" as a child. He joined caving and diving clubs at university.
According to an online profile, Mr Volanthen also runs marathons and ultra-marathons. He joked that "he only runs so he can eat more biscuits".
The IT consultant, who is based in Bristol and grew up in Brighton, started caving as a scout. Speaking to the Sunday Times in 2013, he said cave rescue requires a calm head.
"Panic and adrenaline are great in certain situations – but not in cave-diving," he said. "The last thing you want is any adrenaline whatsoever."
He added: "It [cave diving] is like that puzzle with the fox, the chicken and the grain. It's not dangerous if you do it right."
In 2012, both men received a Royal Humane Society medal at Buckingham Palace, in recognition of their rescue attempt in France.
The third British expert, Robert Harper, has been caving since 1968.
In the rescue video shared by the Thai Navy Seals, the two British men can be heard telling the group they are the first to arrive but "many more are coming".
One of the group can be heard saying he is very happy, while the British voice replies: "We are happy too."
One of the boys then says: "Thank you so much."
Someone asks the men where they are from and the British voice replies: "England, UK."
Source link