After an unexpected delay, Microsoft has at last begun rolling out the new Windows 10 April 2018 Update (version 1803) half a year after the last big Windows 10 update, the Fall Creators Update (version 1709), in October 2017.
The April 2018 Update, which was code-named Redstone 4, offers a slew of new features, notably one called Timeline that lets you quickly resume earlier activities, and the Diagnostic Data Viewer, which Microsoft says will make it easier for you to know and control what data Microsoft gathers about you. Beyond that are tweaks to Cortana, Microsoft Edge and plenty more.
How useful are the new features, and will the tweaks make a difference in your life? To find out, I've put this newest Windows 10 iteration through its paces for a month, in addition to tracking its new features for the last six months. Here's an in-depth review of what you can expect.
Attention, IT pros: There's a lot here for you, too, so be sure to check out the "What IT needs to know about Windows 10 version 1803" section of this story.
Tuning into Timeline
The centerpiece of the Windows 10 April 2018 Update is Timeline, a new feature that lets you review and then resume activities and open files you've started on your Windows 10 PC, as well as any other Windows PCs and mobile devices you have, including iOS and Android devices. It's designed for a hyper-busy, multitasking world, in which you often work on multiple projects on multiple devices. (For Timeline to work on iOS and Android devices, you need to install Microsoft's digital assistant, Cortana, and be logged in.)
To use it, go to Settings > Privacy > Activity history and make sure the box is checked next to "Let Windows collect my activities from this PC." If you want to have activities from other accounts show up on your Timeline, go down to the "Show activities from other accounts" section and move the slider to On. Timeline is now turned on not just for this device and this account, but for your other devices and other Microsoft accounts as well. (If you want to turn off Timeline, in the "Show activities from other accounts" section, set the slider to off for all your accounts.)
You get to Timeline the same way you get to Windows 10's Task View feature, which lets you create multiple virtual desktops — the two features are combined into a single interface. Get to it by clicking the Task View button just to the right of Cortana's search box, or else by pressing the Windows key + Tab keyboard combination.
When you get there, you'll see a list of your activities day by day over the last week, including websites you've visited and files you've opened. By default, Timeline only shows you seven days of your history. To show 30 days, scroll to the bottom of Timeline and select "Turn on." When you do that, you'll now see your history over the last 30 days.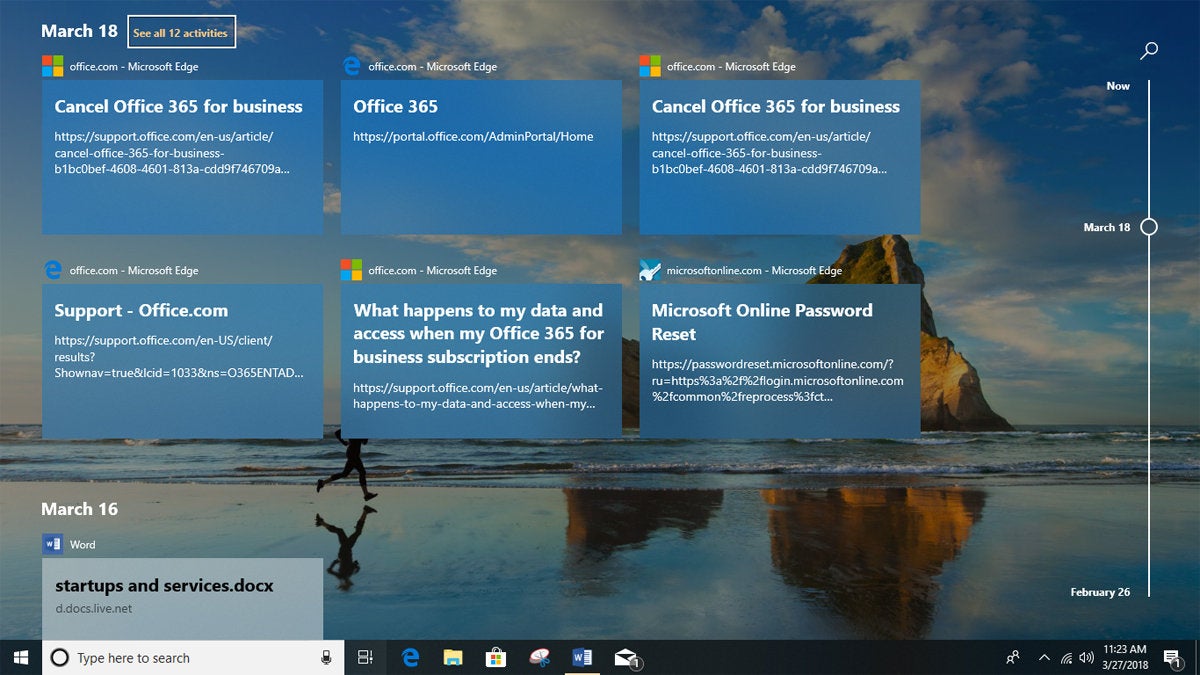 Each activity shows up as a large tile, with the file name and document title or URL and website name across it, and the name of the application or app that created it across the top. In many, but not all, cases, when it shows websites you visited, it also shows thumbnails. The history is organized by days.
On my machine, Timeline shows up to six activities for any given day, with a link at the top of the day giving you the option to see all activities for that day, with the words, for example, "See all 12 activities." Click it to see all of them. When you click to see all activities in a day, they're organized by hour, so for a particularly busy day you can see your work throughout the day, chronologically. To see only six activities when you're looking at Timeline, click "See only top activities."
Scroll down through the tiles using a mouse or arrow keys, or else use the slider on the right-hand side of the screen. You can also do a search through them by clicking the search icon at the top of the screen. When you do that, though, it searches only through titles and file names, not the contents of the documents you've opened. So, for example, if you've worked on a Word document in the last 30 days and it had the word "Net Benefit" in the body of the document but not in its title, a Timeline search won't turn up the document.
Click any tile to open it. In the case of an application, such as Word, the application will launch with the file open in it. In the case of a website, the site launches in Microsoft Edge. When you open a file, you won't see the file in the state it was in on that day on the Timeline. Instead, you'll see the latest version, which will include any changes made since you opened the file on that day. The same holds for websites. You won't see the state of the site at the time you visited it. Instead, you'll see its current state.
You can remove individual entries from Timeline or all the entries for a single day. To do it, right-click the entry you want to delete and select Remove from the pop-up menu. To delete all of that day's activities, instead select "Clear all from (date)," such as "Clear all from March 26."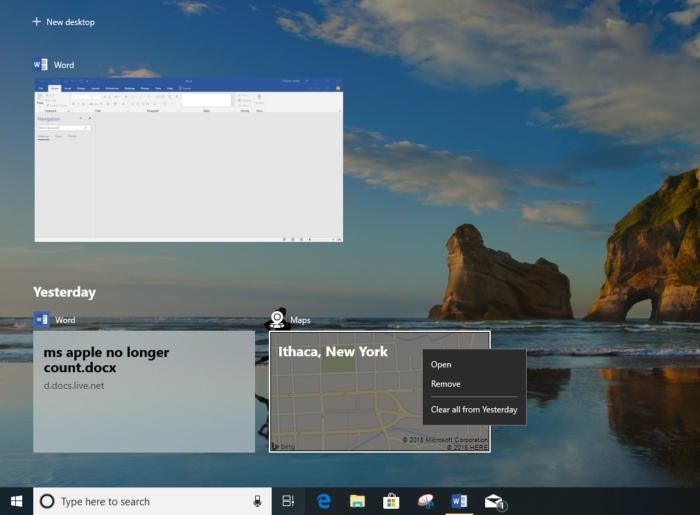 All that is all to the good — Timeline has the potential to be one of the most useful and powerful additions to Windows 10 since the operating system was introduced. I typically work on up to a dozen projects at the same time, across a desktop and multiple laptops. It's difficult for me to easily recall everything I've done over the last month, including all the files I've worked on and websites I've visited. Revisiting my past work via Timeline would be a great way to do that. But it has such serious flaws that it's only marginally useful.
The biggest issue is that unless you're a dyed-in-the-wool Microsoft fan, Timeline doesn't actually track all your activities. It tracks, at this point, only Microsoft applications, including all Office applications and Microsoft Edge. Use other applications and browsers, and you're out of luck. Given that Edge has only a 4% worldwide market share, according to Statcounter, that leaves the vast majority of Windows 10 users out in the cold. And if you use alternatives to Microsoft Office, you're out of luck as well. Timeline also doesn't track non-Microsoft applications such as PDF readers, multimedia tools, music applications, games, note-taking tools such as Evernote and more.
Non-Microsoft apps don't have to be left out forever. Their developers can add support for Timeline if they want. But Microsoft has a dismal history of getting developers to buy in to new Microsoft ecosystems — they didn't develop apps for Windows Phone to any great extent, which helped do in that mobile operating system. And developer support for bringing out extensions for Edge is awful as well, as I'll detail later in this review. So it's not at all clear that they'll buy in to Timeline.
There are several lesser problems with the feature as well. It would be more useful if it let you search not just titles and names of documents, but the contents of the documents. I also found its support for Microsoft apps inconsistent. For example, it showed me that I had used Maps within the last 30 days and what I had used it for, but not People or Mail.
The upshot? If Microsoft fixes these problems, Timeline can be a spectacular productivity booster. If it doesn't, it'll be a nice niche feature that can be occasionally helpful. I use Microsoft Office, but not Edge, so I've found it quite useful for tracking the Word, Excel and PowerPoint files I've been working on, but of no use when it comes to the websites I've visited.
Edge still has no edge
Once again, Microsoft has used one of its major Windows 10 updates to try to improve its Microsoft Edge browser enough so that it can compete with Google's Chrome browser. And once again, it falls short. That's not to say the new features are bad. They're perfectly fine. They're just not enough.
The feature you'll notice most is the redesigned Hub, a kind of control central for Edge that gives you access to your bookmarks, reading list, e-books, history and downloads. Click the Hub icon just to the right of the Address Bar (it's a star with three horizontal lines), and the Hub appears. Its navigation is now vertically oriented instead of horizontal, and the icons for Favorites, Reading List, Books, History and Downloads are much larger. I found the vertical navigation both more pleasing to the eye and simpler to navigate than the previous version.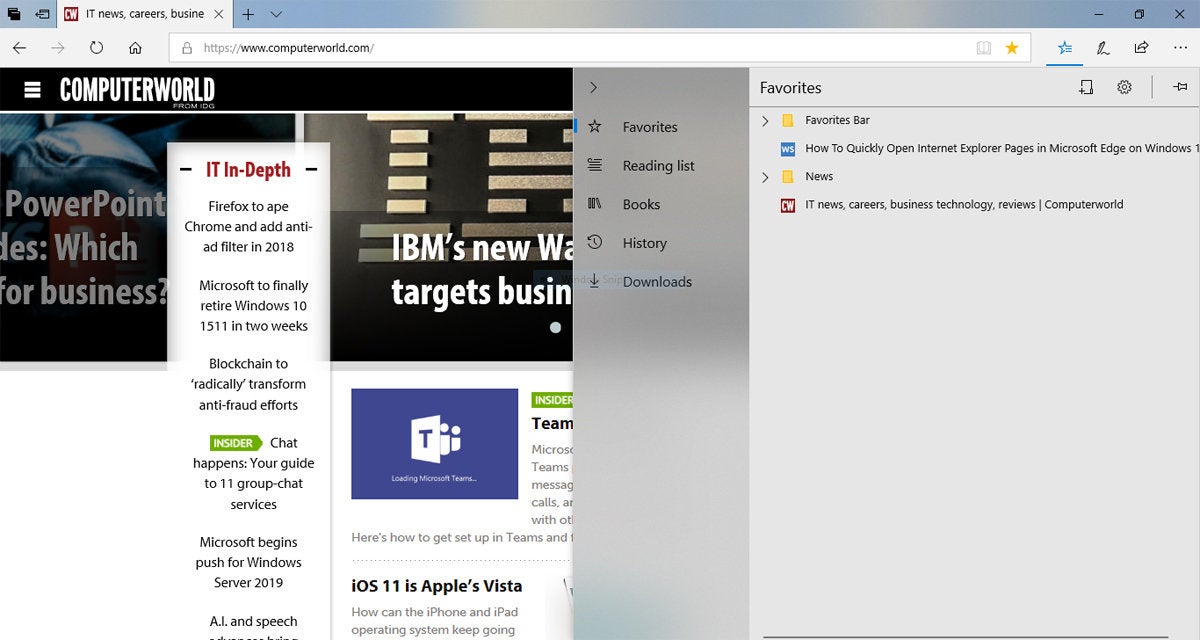 If you're driven crazy by the sheer noise of the web because of all of the auto-playing audio and video, you'll welcome a new feature that shows you when audio (including when it's in a video) is playing on any of your tabs and lets you silence it by right-clicking the tab and selecting "Mute tab" (or "Unmute tab" if you've muted it and want it to start playing again). I found this especially useful when I was in another tab, and one of my open tabs started auto-playing audio. Still, it's not quite as useful as Chrome's feature for doing this, in which you can choose to mute (and unmute) the audio in a tab not just for the current session, but for all sessions going forward.
Another useful change is that Edge can now fill in web forms with information including your name, address, credit card details and more. To that I say it's about time, given that other browsers such as Chrome have been doing this for years. It syncs this information across all your devices, which is useful. And like Chrome, it won't remember CVV security codes for credit cards, for security reasons.
Microsoft continues to tweak Edge's eReader. It now uses the same interface when you're reading web pages in Reading View, EPUB books from the Windows Store or elsewhere, or PDF documents. The reader's bookmark management features have also been improved, as well as the ability to use the reader in full-screen view. And you can also pin books to your Start menu. I found little of this helpful, but that's because I rarely use the eReader. If you're among the hardy few who do, you'll be pleased by what you see.
Beyond those are a variety of lesser tweaks. You can now print out web pages with a "Clutter-free printing" option that strips out ads and other unnecessary content. If you have a precision touchpad — one that meets a set of standards specified by Microsoft — Edge will recognize the same gestures that you can use on a touchscreen, such as pinch-to-zoom. Websites will now be able to send you Action Center notifications¸ even if you don't have the site open in Edge. And Edge can now run Progressive Web Apps (PWAs), a new standard that lets web apps behave even more like desktop apps. They'll be available in the Microsoft Store.
However, one of the most basic problems with Edge remains its lack of extensions. As I write this, it has only 99 extensions, compared to the many thousands available for other browsers, including Chrome and Firefox. Edge had about 70 extensions when the Windows 10 Fall Creators Update was released six months ago. So only about 30 have been introduced since then. It seems pretty clear by now that Edge will never catch up to its competitors when it comes to extensions and add-ins.
The bottom line for Edge: The tweaks it's gotten in this update are all relatively low-key, minor ones. It's still inferior to Chrome.
Diagnostic Data Viewer makes a misleading debut
Along with the April 2018 Update, Microsoft is releasing the Diagnostic Data Viewer, a new feature that the company claims will help protect your privacy. The tool, wrote Device Group Privacy Officer Marisa Rogers in a blog post, is part of Microsoft's commitment to be "fully transparent on the diagnostic data collected from your Windows devices, how it is used, and to provide you with increased control over that data."
It's not built directly into the Windows 10 April 2018 Update. To get it, first go to Settings > Privacy > Diagnostics & feedback. Then toggle the "Diagnostic data viewer" option "On." Be forewarned that doing this can use serious hard disk space — up to 1GB, Microsoft says.
Once you do that, click Diagnostic Data Viewer. That brings you to the Windows Store, where you can download the Diagnostic Data Viewer app. Using the tool, you're supposed to be able to easily see and control the diagnostic telemetry data Microsoft gathers about you as you use Windows, which is used to improve how Windows works.
That sounds like a great idea. If only it were true. The tool is something only a programmer could love — or understand. And plenty of them likely won't be able to understand it either. It's completely inadequate for its intended purpose. Most of us can't use it to find detailed, easy-to-understand information about the data being sent to Microsoft about your use of Windows, your hardware and the way you use them — model and make of devices attached to your PC, your app and Windows feature usage, samples of inking and typing output, the health of your operating system and so on.
Instead, you scroll or search through incomprehensible headings such as "TelClientSynthetic.PdcNetworkActivation_4" and "Microsoft.Windows.App.Browser.IEFrameProcessAttached" with no explanation of what any of it means. Click any heading, and you'll be treated to even more incomprehensible data, such as the excerpt you see in the screenshot below. Each listing has lines and lines of code like this, with absolutely no guidance or explanation given. You won't be able to make any sense of it.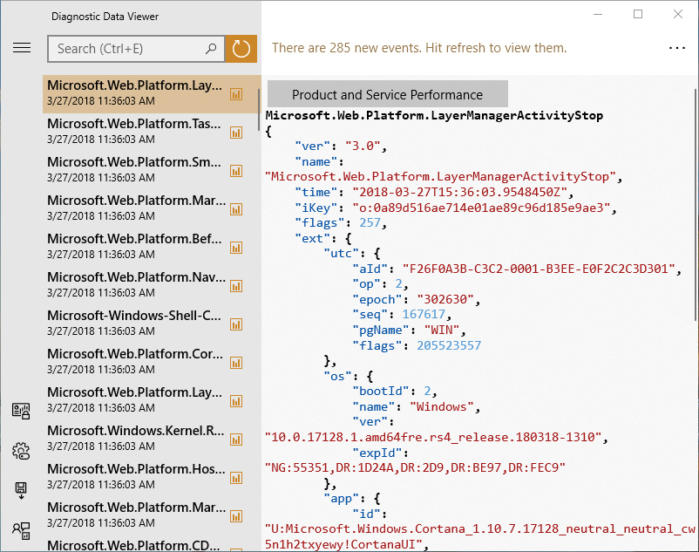 The truth is, though, that even if you could understand what Microsoft gathers about you for diagnostic purposes, there's not much you can do about it. Although you can make a basic decision on a very broad level about what data it grabs, you can't make a choice at a granular level. And this tool does nothing to help.
If you want to control what diagnostic information Microsoft gets about your use of Windows 10, go to Settings > Privacy > Diagnostics & feedback. At the top of the screen you'll find two choices, Basic and Full. Choose Basic, and Windows 10 will "Send only info about your device, its settings and capabilities, and whether it is performing properly." Choose Full, and the Basic information is sent, as well as "info about the websites you browse and how you use apps and features, plus additional info about device health, device usage, and enhanced error reporting." There's no way to exclude Basic data from being sent, and no way to pick and choose which kinds of Full data are sent.
There is a small exception. If you use the Enterprise Edition of Windows 10, you can stop all data from being sent. But all other Windows 10 users are out of luck.
Microsoft hasn't covered itself in glory with the Diagnostic Data Viewer. If the company were serious about giving people control over the data the company collects about them, it would create an easy-to-understand tool that people could use to see what's gathered, and then decide what should be sent. Diagnostic Data Viewer does none of those things.
Microsoft already has a tool that can give you control over a fair amount of other kinds of data Windows 10 gathers about you. Its web-based Privacy dashboard lets you view and clear your search history, browsing history, location history and information gathered by Cortana. It's clear, well-designed and easy to use. Microsoft should create a similar tool for the diagnostic information it gathers about you as well. The Diagnostic Data Viewer isn't that tool.
Cortana tweaks
Microsoft has made only one significant change to Cortana, by adding a new interface to its Notebook. (To get there, put your cursor in the search box and then from the pane that appears on the left, click the Notebook icon — it's the third from the top.) Previously, the Notebook was organized via a series of more than a dozen selections, including Lists, Reminders, Connected Services, Music and so on, which I found a bit daunting. The new organization is much clearer and lets you find what you're looking for much more quickly.
When you click the Notebook icon, you'll come to two tabs, Organizer and Manage Skills. Go to the Organizer to create lists and set reminders. The Manage Skills tab lets you add what are called "skills" to Cortana, such as controlling your home and its appliances, connecting Cortana to music services such as Spotify, track your fitness and more.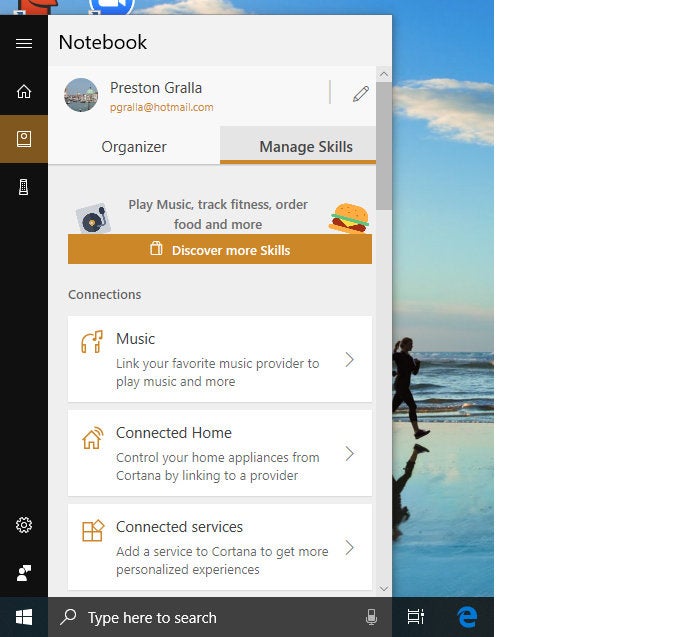 Also new in the Notebook is a profile page that shows your favorite places, such as home, work and so on. Each place performs tasks for you, such as showing you the traffic on your daily commute and making it easy to create reminders for when you arrive or leave those places — for example, to pick up groceries after you leave work.
Beyond that is another minor change: It's now a bit easier to add skills to Cortana, such as showing you the weather or controlling your home's lights. When you add a skill, Cortana now prompts you with a set of questions to help you get started on setting it up.
All this is well and good, but none of these additions is particularly significant. Cortana is now slightly easier to use. But if you weren't a fan of Cortana before this update, you won't be a fan of it afterwards.
Small improvements to My People
This update offers a few minor improvements to the My People feature introduced in the Fall Creators Update. My People lets you pin contacts to the Windows taskbar, and then communicate with them right there without having to open a separate app.
When My People was introduced, you could pin only three contacts to the taskbar. Now you can pin up to 10. To do it, go to Settings > Personalization > Taskbar, scroll down to the People section, and choose the number of contacts you want to show, any number from one to 10.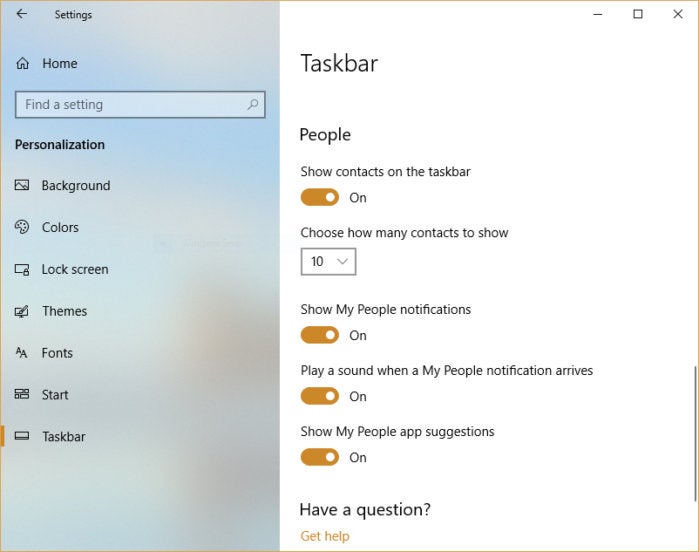 My People also now has some drag-and-drop features, such as changing the order of contacts on the taskbar by dragging them and sending a file to a contact on the taskbar by dragging a file to it. However, I was unable to add a contact to the taskbar by dragging it from the People app, a surprising oversight.
Wireless enhancements
The update offers two wireless tweaks worth mentioning, which might make your life just a bit easier. A new Near Share file-sharing feature, similar to Apple's AirDrop, lets you easily share files using Bluetooth. You'll need to have Bluetooth enabled, then click the "Nearby sharing" quick action tile in Action Center. Once you do that, when you're in an app that has a Share button, click it and you'll see a list of all devices nearby that have turned Near Share on. Click a device and you'll share the file wirelessly. It works with all apps with the Share feature built into it, such as the Photos app and File Explorer.
There's also a new "quick pair" feature that makes it easier to pair your device with a Bluetooth one. When a Bluetooth device in pairing mode is within range of your PC, you'll get a notification to pair with it, cutting out the usual steps of heading to Bluetooth settings in the Settings app. That'll save a little bit of time, but don't expect to use it yet. Manufacturers have to add support for it to their devices, so it'll take time to roll out. At the moment, it works with Microsoft's Surface Precision mouse.
Better control over app permissions
There's also now a better way to control what permissions you give apps, such as whether they can access your camera, location and contacts. Go to Settings > Apps > Apps & features, select the app whose permissions you want to control, then click Advanced options. From here, you'll be able to set what permissions it should have.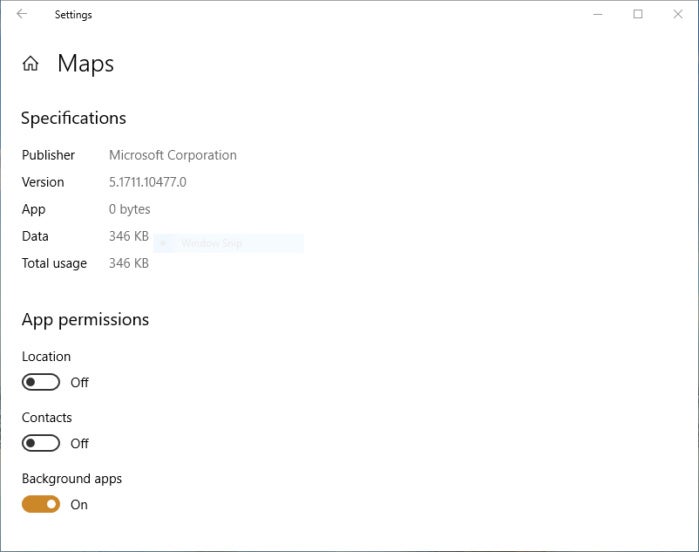 In addition to that, you can completely turn off access to your PC's camera. Go to Settings > Privacy > Camera and set the toggle to Off. In earlier versions of Windows 10, this blocked access to the camera from Windows apps, but not from desktop applications. Now it blocks desktop applications as well.
And you can also decide which Windows apps can gain access to your complete file system or to your Pictures, Videos and Documents folders. Go to Settings > Privacy and scroll down to the "App permissions" area on the left pane. You'll find new settings for controlling access to them. Click any to set them.
Reorganized Settings app
Every six-month Windows 10 update seems to reorganize Settings, frequently bringing settings from Control Panel and the old Windows user interface into the Settings app. This time it's no different. Those who like to tweak what applications run on startup will be pleased that you can do that now in an entirely new section of Settings, available via Settings > Apps > Startup. (You can also still do it from the Task Manager as well.)
Head to the Startup screen and you'll see all the apps that run on startup. Simply move the toggle from On to Off for any you don't want to run on startup, and from Off back to On if you'd like them to load.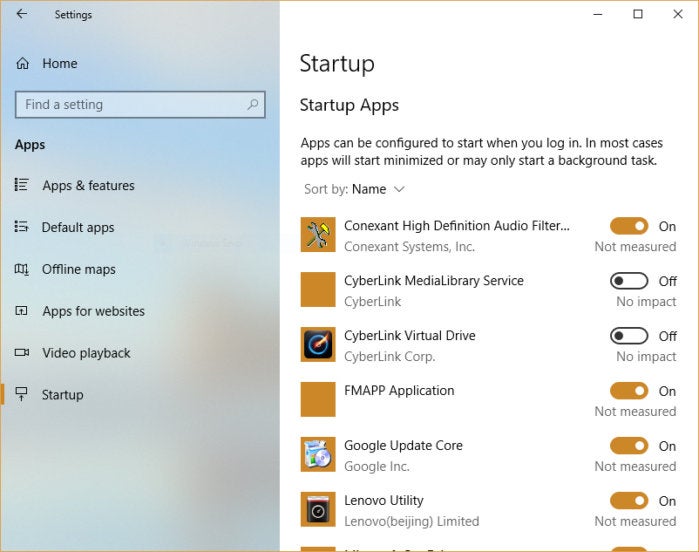 You can also control your fonts via Settings > Personalization > Fonts and finally get a good look at precisely what the fonts look like. And the Disk Cleanup tool is also now finally available in Settings. Get there by going to Settings > System > Storage > Free up space now. Old-school curmudgeons can still get to the old Disk Cleanup tool as well by launching File Explorer, right-clicking a drive, clicking Properties from the panel that appears, then clicking the "Disk Cleanup" button from the next panel.
Finally, you may have read reports that the Windows Defender security tool has been renamed Windows Security. That's not quite the case — Windows Defender still exists as a subset of Windows Security. Go to Settings > Update & Security and click Windows Security, and you'll see a revamped interface that includes a wide variety of Windows security settings, such as Account Protection, Virus & Threat Protection, App & Browser Control, Device Performance & Health, and others. However, there's also a button that opens the Windows Defender Security Center, which replicates some but not all of the features in the Windows Security page. Needless to say, this is a bit confusing. But when has Microsoft ever been accused of consistency?
Other changes
There are a whole host of minor changes, as is usual in the twice-yearly updates. In one of the least significant of all, the Home Group home networking feature has been killed. To that I say good riddance. It was flaky, difficult to use and pointless.
If you've got a multi-GPU system, you can choose which GPU should run which application. To do it, go to Settings > System > Display > Graphics settings and follow the instructions.
The Quiet Hours do-not-disturb feature has been renamed Focus Assist and given some tweaks. You can set it to turn on by itself under some circumstances — for example, at certain times of day, when you're duplicating your display (as when you're giving a presentation), or when you're playing DirectX games in full-screen exclusive mode. You can also decide to let high-priority notifications in, as well as block, temporarily, low-priority notifications. To customize it, head to Settings > System > Focus assist.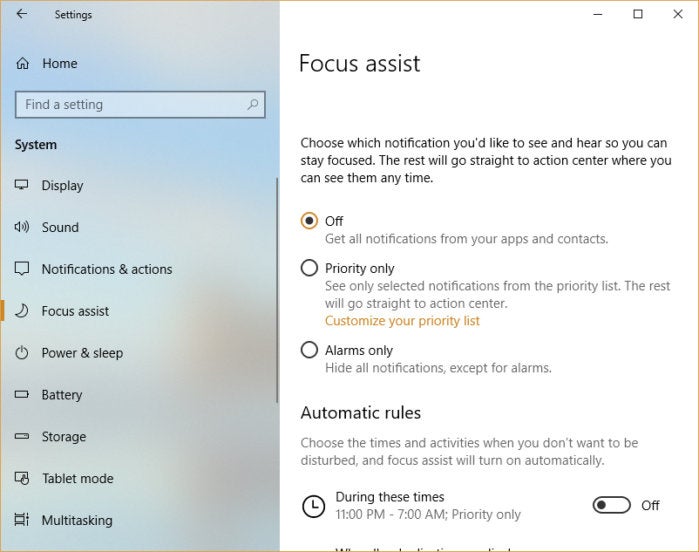 This version of Windows 10 also has an attempted a fix for the times when desktop applications appear blurry when you change your display settings. To try it, go to Settings > System > Display > Advanced scaling settings and underneath "Fix scaling for apps," set the toggle to On.
Windows now also gets HDR (high dynamic range) video support on more devices. Even though many devices can play HDR video, they might not have been calibrated properly to play it when manufactured. However, Windows can check whether a device can play it. To do it go to Settings > Apps > Video playback. Try setting the "Stream HDR video" option to On. If you can do that, the device can play HDR video. Before trying to play the HDR video, click "Change calibration settings for HDR video on my built-in display," which only appears if you've turned the "Stream HDR video" option to On.
There's also a redesigned, more streamlined Game Bar, the ability to insert multiple emojis at a time using the emoji panel, and the use of Microsoft's Fluent Design guidelines in more places throughout Windows, among other changes.
What IT needs to know about Windows 10 version 1803
There are no big, dramatic changes for developers, system administrators and other IT professionals in this update, but plenty of small ones. Windows Defender Application Guard, which protects Microsoft Edge, was introduced in the Windows 10 Fall Creators Update just for those who use Windows 10 Enterprise Edition. In this update, Windows 10 Professional users get it as well. There's also a new feature in the application guard that lets users download files from inside Edge instead of directly to the operating system, as a way to increase security.
The update introduces new policies for Group Policy and Mobile Device Management (MDM) that can better control how Delivery Optimization is used for Windows Update and Windows Store app updates. It lets administrators throttle bandwidth based on the time of day, among other features. The policies are available in the Group Policy Editor by going to Administrative Templates > Windows Components > Delivery Optimization in the Group Policy Editor.
Windows also gets the Linux curl and tar utilities for downloading files and extracting .tar archives, built directly into Windows. They're available at C:WindowsSystem32curl.exe and C:WindowsSystem32tar.exe. Windows also now natively supports Unix sockets (AF_UNIX) with a new afunix.sys kernel driver. That will make it easier to port software to Windows from Linux as well as from other Unix-like operating systems.
Speaking of Linux, there are a whole host of improvements to the Windows Subsystem for Linux, which lets you run a variety of Linux distributions right on Windows 10. The new Unix sockets report is available for the Windows Subsystem for Linux as well as Windows itself. Among other new features, Linux applications can run in the background, some launch settings for Linux distributions can be customized, and Linux applications have been given access to serial devices.
The Windows 10 Pro for Workstations version of Windows 10 got a few tweaks as well, including a new power scheme called Ultimate Performance, which does what the name implies: tries to wring every ounce of power out of Windows by reducing micro-latencies. It's only for desktop PCs, not those that can be powered by batteries, because it will drain battery power. In addition, Windows 10 Pro for Workstations will no longer ship with games like Candy Crush or other similar consumer-focused apps. Instead, it will feature enterprise- and business-related apps, although those have yet to be announced.
Finally, administrators have been given the power to configure an enterprise's PCs to run custom scripts during feature updates, which will make configuration and deployment easier.
The bottom line
The Windows 10 April 2018 Update is a serviceable update, but there's nothing earthshaking here. The only potentially extremely useful new feature, Timeline, is hamstrung because it only tracks Microsoft apps, and even then, not all of them. The Diagnostic Data Viewer will certainly disappoint people who hoped they would finally get some control over what kinds of diagnostic telemetry data is sent to Microsoft. Microsoft Edge, once again, hasn't been improved much, and the fact that only about 30 extensions for it have been launched since the fall update is not just an embarrassment for Microsoft, but seems to be a clear sign that Edge will remain a perennial also-ran.
Apart from that, there's not much of great note here, even less than was in the Windows 10 Fall Creators Update, which introduced the excellent OneDrive Files On-Demand, and the useful MyPeople feature.
All in all, don't expect a dramatic change from this update. Think of the way you use Windows now. That'll most likely be the way you use Windows after the update, unless you use Microsoft apps exclusively, in which case you'll probably put Timeline to good use.
Source link