The march from Intel for everything to be under the '8th Gen Intel Core' branding is now at its climax: today is the official launch of several new 8th Gen products spread across four of five new categories. The headline is that Intel's mobile platform will now get Core i9 and Core i7 products with six cores at 45W, along with some 28W U-series mobile chips with Iris Plus graphics. Desktop also gets some extra chips, filling out the Coffee Lake stack for desktop users, and vPro is littered around both mobile and desktop. Also on the plate is new branding for 8th Gen Core products being used with Intel's Optane drives, new mobile and desktop chipsets which include wireless capabilities and USB 3.1, and Intel's new 'Thermal Velocity Boost' which promises more frequency in devices that can handle the thermal stress.
Because there are so many different aspects to Intel's processor strategy being announced today, here is a quick bullet point list of all the headline features, which link to their respective pages.
Leaks for a lot of these products have slowly been appearing in the media for some time, with a number of OEMs, particularly in the laptop space, ready to pounce with their latest generation of products – some of them are set to be announced at the same time as this announcement, such as GIGABYTE's Aero line with 144 Hz panels and 8th Gen processors, while others will be going live very soon.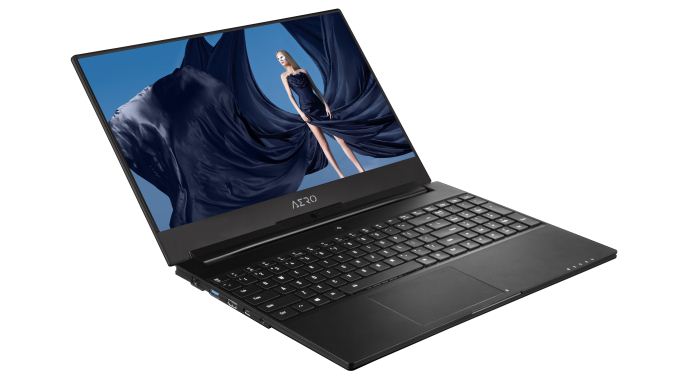 GIGABYTE Aero 15X v8 – 15.6-inch 1080p144 IPS (5mm bezels)
Core i7-8750H + GTX1070 + 1x16GB DDR4 + 512GB PCIe
$2300. First pre-orders also get Aero-branded Beats headphones
Prior to today, Intel's 8th Gen launch has been of certain choice components only. Back as early as August we saw the launch of a small handful of U-series 15W mobile processors, dubbed 'the Kaby Lake Refresh' launch, by virtue of the chips being binned from already manufactured quad-core Kaby Lake silicon. These parts offered a route into quad-core CPUs for Intel's mobile partners within a strict TDP/PL1 limit of 15W (despite peak power PL2 moving up from 19W to 44W).
In October 2017, Intel launched six desktop processors, as well as a desktop chipset ecosystem to go around them. These new components were the first of Intel's 'Coffee Lake' generation of components, giving the six-cores on Intel's latest version of its 14nm manufacturing process. Again, components were binned to ensure that the base frequencies hit the traditional TDP/PL1 limits, such as 95W for the Core i7-8700K, however high-turbo modes afforded a hungry chip. Nonetheless, the raw performance gave a new peak single-threaded champion processor, and even more so when overclocked.
Then most recently in January of this year, Intel launched its new G series processors that bundled a standard 45W Kaby Lake mobile processor with an AMD Radeon graphics chip and HBM2 memory all in the same package. The new product line, called 'Intel Core with Radeon RX Vega', was a supply agreement between AMD and Intel, with AMD effectively selling the graphics chips to Intel and it is up to Intel to sell the full components under Intel branding. These parts fit somewhere between the high-end mobile CPUs and user systems with mid-range discrete GPUs, and the first product launched was the Intel Hades Canyon NUC, to which the embargo lifted on reviews only a few days ago – Ganesh has all the pertinent details on the system in his review. Many people expect Apple to be Intel's biggest customer with these parts, however the future of the product line is unclear, with Intel unwilling to discuss the roadmap on what is being called 'Kaby Lake-G'.
What should be clear is that Intel is mixing and matching its processor microarchitecture designs, as well as process node variants, within the same product family. So far the '8th Gen Intel Core' family has processors built on Kaby Lake (Kaby-G), Kaby Lake Refresh (U-series), and Coffee Lake (desktop). The announcements today muddy the water even further, with Coffee Lake coming to the mobile parts, potentially more Kaby Lake Refresh in mobile too, and more Coffee Lake on the desktop. The as-yet unreleased 10nm Cannon Lake CPUs, which Intel claims to have started shipping, are also set to be part of the 8th Gen family.
Intel's Core Architecture Cadence (4/3)
Core Generation
Microarchitecture
Process Node
Release Year
2nd
Sandy Bridge
32nm
2011
3rd
Ivy Bridge
22nm
2012
4th
Haswell
22nm
2013
5th
Broadwell
14nm
2014
6th
Skylake
14nm
2015
7th
Kaby Lake
14nm+
2016
8th
Kaby Lake-R
Coffee Lake-S
Kaby Lake-G
Coffee Lake-U
Coffee Lake-H
Coffee Lake-S Part 2
Cannon Lake
14nm+
14nm++
14nm+
14nm++
14nm++
14nm++
10nm
2017
2017
2018
2018
2018
2018
2018?
9th
Ice Lake
…
10nm+
2018?
Unknown
Cascade Lake (Server)
?
?
Perhaps the most poignant part of this is that when Intel gave us the briefing for these components, nowhere on the slide deck was there any mention of which microarchitecture applied to which processor. Back at Intel's Manufacturing Tech Day in early 2017 (no word on a 2018 equivalent yet), it was stated that Intel was going to be fluid on microarchitecture and naming between the generations. So far we have underestimated just how fluid Intel wants to take this, as it now becomes clear that Intel is set not to specifically focus its PR relating to any microarchitecture names for the sake of clarity. Though this is blunted somewhat by the fact that Kaby Lake and Coffee Lake share the same CPU and iGPU architectures, thereby limiting the actual differences between the two. However this fluid strategy also hides some of the additional functionality that the latest platforms will bring: case in point, new chipsets.
New 300-Series Chipsets, with Wi-Fi and USB 3.1 Gen 2 (10 Gbps)
As part of today's launch, Intel is announcing four new chipsets for the desktop platforms. This models 'fill out' the product stack, similar to how previous generation chipsets were labelled. Joining the currently available Z370 chipset will be the mid-range H370 chipset, the corporate focused vPro-enabled Q370 chipset, the cheaper mid-range B360 chipset, and the limited function (but super cheap) consumer-focused H310 chipset. All four of these new chipsets are based on the Platform Controller Hub (PCH) originally designed for the still-missing Cannon Lake architecture CPUs.
Intel 8th Gen Chipsets (PCH)
Z370
H370
Q370
B360
H310
Launch
Oct '17
Apr '18
Apr '18
Apr '18
Apr '18
Market
Consumer
–
Consumer
Corporate
–
Corporate
Consumer
Corporate
Consumer
–
ME Firmware
11
12
12
12
12
HSIO Lanes
30
30
30
24
14
Total USB
14
14
14
12
10
Max USB 3.1 G2
–
4
6
4
0
Max USB 3.1 G1
10
10
8
6
4
SATA 6 Gbps
6
6
6
6
4
PCH PCIe 3.0 Lanes
24
20
24
12
–
PCH PCIe 2.0 Lanes
–
–
–
–
6
Max RST PCIe Storage
3
2
3
1
0
Supports Optane
Y
Y
Y
Y
N
Integrated 802.11ac
N
Y
Y
Y
Y
Intel Smart Sound
Y
Y
Y
Y
N
Intel vPro
N
N
Y
N
N
TDP
6 W
6 W
6 W
6 W
6 W
The headline for these parts is that as they're actually based on a newer generation PCH, they come with a number of new features. The first headline feature is the integrated 2T2R 802.11ac Wi-Fi support, allowing the latest Wave 2 (160 MHz) channel communications and giving speeds up to 1733 Mbps. Intel states that this is 12x faster than 1T1R 802.11n support provided by low cost solutions, and double the performance of most 2T2R options on the market. Despite Intel support however, not all motherboards that use a chipset that offers this feature will have it implemented: we canvassed some of the manufacturers and were told that the periphery around Wi-Fi support, such as manufacturing, trace layouts, the companion module, antenna, and potential regulatory support (given devices shipping with Wi-Fi) can add an additional $15 cost to the motherboard. Given that H310/B360/Q370 are designed to be at the lower end of the cost spectrum, there may only be a few motherboards that were already planning on having Wi-Fi that would enable this feature, as it does (sort of) save some money overall.
Intel's Wi-Fi solution relies on its integrated connectivity feature, CNVi, enabled in Gemini Lake and now in the latest 8th Gen processors. This method pushes the large/expensive functional blocks, such as the logic, MAC, and memory, from a standard Wi-Fi module onto the chipset, leaving the PHY and antenna on the companion RF module (CRF), and connecting through the CNVio interface via a specialised M.2 slot. Intel's own webpage on the feature states that it has three different CRFs possible, all under the 'Jefferson Peak' platform codename:
The AC-9560 (the 2T2R module, the only vPro enabled CRF),
The AC-9462 (a 1T1R module with FIPS9 support), and
The AC-9461 (a low-end 1T1R module).
All three CRFs support Linux, Chrome OS, and Windows 10, but are only offered with a 1 year warranty.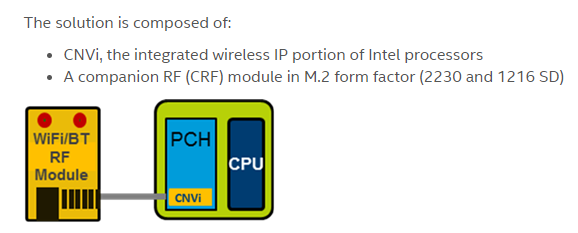 The second headline feature is the support for USB 3.1 Gen 2 (10 Gbps) ports native to the chipset. This is using Intel's own IP, and shows Intel reaching parity with the competition. Motherboard manufacturers will have to use HSIO lanes to enable USB 3.1 Gen 2 (10 Gbps) ports, with up to four being supported on H370/B360, and six being supported on Q370. In order to implement a Type-C port, a re-driver is required, as with other Type-C implementations. It will be interesting to see the number of 10 Gbps ports that are put into play on the motherboards available.
We have asked Intel for breakdowns of the HSIO appropriation rules, and are waiting for that information. Unlike the materials we recieved in our Skylake launch decks, the 8th Gen HSIO data was not provided in the materials for today's launch.
Also on the plate for the chipsets are features like Modern Standby/Smart Connect, allowing for systems to update email and such while in a sleep state similar to some laptops. Intel was proud to state that this is the first time the feature has come to the desktop, whereas previously it was seen more as a laptop-focused feature. This is enabled through the chipset and the network connection, although Intel only lists the 1T1R enabled CRFs as supporting this feature, meaning that the 2T2R might not. We are waiting on confirmation. Update: Intel has confirmed that all three CRFs support Modern Standby.
Intel also lists 'ambient computing' as being enabled by the chipset. This allows for wake-on-voice in a low powered mode, much like a smartphone or connected device that the user can call Cortana or Alexa while the system is in screen-off or Modern Standby.
Notebook Chipsets
For the launch today, Intel is also announcing a number of notebook chipsets with similar features: enhanced audio, enhanced IO, integrated 802.11ac with gigabit throughput, and USB 3.1 Gen 2 (10 Gbps) native support.
Unfortunately, Intel didn't provide any details on what the new chipsets are called, let alone their capabilities, which is surprising given how forthcoming they have been before with this information. Probably QM370 or something similar. We will update this page when we know more.
Update: Because Intel ARK (ark.intel.com) has the information at launch before Intel's own PR does, we now have the information on the mobile chipsets.
Intel 8th Gen Mobile Chipsets (PCH)
HM370
QM370
QMS380
Launch
Apr '18
Apr '18
Apr '18
Market
Consumer
–
–
Corporate
–
Corporate
ME Firmware
12
12
12
HSIO Lanes
?
?
?
Total USB
14
14
6
Max USB 3.1 G2
4
6
0
Max USB 3.1 G1
8
10
6
SATA 6 Gbps
4
4
4
PCH PCIe 3.0 Lanes
16
20
8
PCH PCIe 2.0 Lanes
–
–
–
Max RST PCIe Storage
?
?
?
Supports Optane
Y
?
?
Integrated 802.11ac
Y
Y
Y
Intel Smart Sound
Y
Y
Y
Intel vPro
N
Y
Y
TDP
3 W
3 W
2.4 W
Price
$49
$49
N/A
Some of the information is still missing, like the HSIO lanes, and ARK is a little sketchy on Optane support. However interestingly Intel does give the 1K pricing for two of the chipsets, at a whopping $49. I would assume that this is more of an arbitrary number: if the vendor buys the CPU and PCH at the same time, there's some discount involved.
It's As Simple As a Chipset
It seems odd to go into a CPU launch and describe a bunch of chipsets on the first page. The main reason is this: with the cluster of microarchitectures now living inside the '8th Gen' branding, each product line has different chipsets for different parts of those products. Without knowing the intimate breakdown of how Intel segregates its naming within the 8th Gen family, there is no specific way to know whether the platform you are investing in using native connectivity, controller provided connectivity, whether that platform is guaranteed feature XYZ as part of its base package, or if that feature is going to cost a lot extra. Simply by looking at the CPU SKU is no longer enough to identify if the product might take advantage of a feature.
Take for example, a new 8th Gen Core laptop. The OEM lists the CPU simply as 'quad-core 8th Gen' and lists the Wi-Fi support as just '802.11ac'. There is no way to tell if that Wi-Fi module is native to the chipset or something additional (which draws power). There is nothing to say if the CRF is using a 1×1 connection or a 2×2 connection. Out of the two USB 3.1 (10 Gbps) ports, there is no way to tell if they are coming from an ASMedia chipset or hub, or if they are coming from the chipset.
Does it matter?
For the bulk of Intel's business, probably not. Buy the latest, and the user experience is the user experience. Someone might be concerned if the cheaper model has the better user experience, which is a tough one to explain, without it being a new full generation.
But for the enthusiast that details the minutiae of their purchase, the enthusiast that scours the Internet for feedback and information – those that spend as much time researching that purchase as they would have been paid to get double the system: it matters. If you're reading AnandTech, it probably matters to you too. It also means that in-depth reviews matter more than ever before. As a reviewer that is probably good for business, but as a consumer it makes me want to pull my hair out.
Nonetheless, there is more to today's launch. Mobile Core i9, anyone?
with Intel Thermal Velocity Boost
The peak of Intel's mobile binning strategy for the Spring 2018 launch is the new Intel Core i9-8950HK. It sits atop the mobile CPU stack with six cores, a high base frequency, a high turbo frequency, an even higher turbo based on thermals, and support for overclocking. Intel calls this its highest-performance mobile 8th Gen Intel Core processor, focused on no-compromise gaming, VR, and content creation. Ultimately the marketing comes across as this is a desktop replacement (DTR) processor for those that need big and beefy mobile systems with one or two high-end graphics cards: the sort of DTR laptops that weigh several pounds.
| | | |
| --- | --- | --- |
| AnandTech | Core i9-8950HK | Core i7-7820HK |
| Generation | Coffee Lake-H | Kaby Lake-H |
| Launch | April 2018 | January 2017 |
| TDP | 45 W | 45 W |
| Cores | 6C / 12T | 4C/8T |
| Base Frequency | 2.9 GHz | 2.9 GHz |
| Turbo Frequency | 4.6 GHz | 3.9 GHz |
| Thermal Velocity Boost | +200 MHz | – |
| iGPU | UHD 630 | HD 630 |
| iGPU Base/Turbo | 350 / 1200 MHz | 350 / 1100 MHz |
| DRAM Support | DDR4-2666 | DDR4-2400 |
| Optane Support | Yes | No |
| Tray Price | $583 | $378 |
The Core i9-8950HK is the only product that will have the Core i9 branding, although unlike the Core i9 products for the high-end desktop, the only things here that separates the Core i9s to the Core i7s are the frequency, the new Thermal Velocity Boost, the overclocking, and the L3 cache per core.
The Core i9-8950HK is a six-core processor with a base frequency of 2.9 GHz, and will have a nominal maximum turbo of 4.6 GHz. The 45W thermal design power (TDP), a staple of a Core-H series processor, will be for that 2.9 GHz figure: any turbo mode is likely to go beyond the TDP for power consumption values, so something like 4.6 GHz on all cores might be pushing nearer 100W. This is important, as Intel will actually list the maximum turbo frequency as 4.8 GHz due to the inclusion of Intel's Thermal Velocity Boost (TVB) feature.
TVB is essentially another phase on top of Intel Turbo Boost such that if the CPU stays under a certain temperature, in this case 53ºC, the single core turbo frequency can go up to 200 MHz higher than the processor is 'normally' rated for (despite the fact that Intel will officially promote the rating at the higher frequency anyway). This is designed to leverage OEM designs that are efficient in their cooling, as well as benefit the lucky individuals that get very nice chips from the silicon lottery. Intel states that if the workload is continuous, or over the age of the device, as temperatures rise then this extra 200 MHz is likely to decrease, and thus promotes the TVB implementation for short and burst-y workloads. A good example of this is something like WebXPRT, which is one of Intel's favorites, or the 'Responsive' workload test in SYSMark 2014. For multi-core workloads, TVB will afford a potential +100 MHz increase if the thermal threshold is not breached. Knowing how most OEMs work, it would be interesting to see if that threshold can be adjusted.
With TVB in mind, and the fact that Intel states +200/+100 MHz based on the core loading, it is worth reiterating that Intel does not state per-core turbo modes any more. As per Intel's policy from last year that, and I quote,
'Intel specifies only base and single-core turbo frequencies for its processors and no longer discloses turbo frequencies beyond this level of detail, as it is proprietary to Intel.'
I'm still calling out this atrocious policy, especially when the value can be obtained by just having the chip in front of you. Despite having this policy in place, we were still given the breakdown of per-core turbo frequencies for the Xeon D-2100 family of processors launched earlier this year, which means the policy is not uniformly applied across Intel's processor deployment. What irks me more however is this new turn of phrase: 'as it is proprietary to Intel'. It's a vacuous statement that means nothing. Turbo frequencies can be adjusted by the motherboard manufacturer or the OEM, who do so regularly on mobile platforms, so whatever notion of 'proprietary' is meaningless and goes out the window – ultimately we use Intel's guides to make sure the vendors are playing ball, and not trying to burn laps/desks with abnormal settings.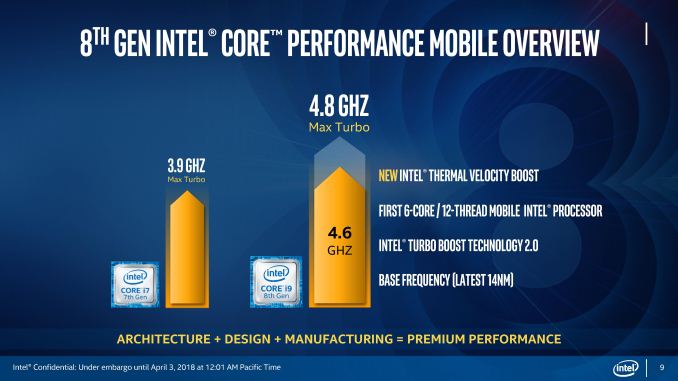 One of the interesting things here is that Intel states that this chip is using the latest 14nm technology. This basically confirms that this chip is using Intel's 14++ nm process node, which would also imply a Coffee Lake design, however Intel has not yet formally confirmed this to us.
The Core i9-8950HK is likely to appear in the refreshes of all the high-end DTR systems, such as MSI's Titan line, some massive Acer Predator thing, a big ASUS ROG system, and perhaps someone might try and slip it into something slimmer with an NVIDIA Max-Q. We know of at least one set of machines that will have the Core i9 as a processor option, however those devices are still under embargo as this announcement is made. A few hours after this announcement you can follow this link to see examples of the i9-8950HK in devices:
https://www.anandtech.com/show/12605/
(We'll update this page in a bit)
It is also worth noting that the Xeon E-2186M, the first member of the so-far-unannounced Xeon-E family that is being launched today, mirrors the Core i9-8950HK in almost every aspect, but swaps the overclocking functionality for the ability to use ECC memory and be vPro enabled.
The rest of Intel's 45W processor line mimics previous generations, with the noticeable bump up in core count, memory support, and Optane support. This is best demonstrated in a table:
AnandTech
Cores
Base
Freq
Turbo
Freq
L3
vPro
DRAM
DDR4
iGPU
iGPU
Turbo
Core i7-8850H
$395
6 / 12
2.6
4.3
9 MB
Yes
2666
24 EUs
1150
Core i7-8750H
$395
6 / 12
2.2
4.2
9 MB
No
2666
24 EUs
1100
Core-i5-8400H
$250
4 / 8
2.5
4.2
8 MB
Yes
2666
24 EUs
1100
Core i5-8300H
$250
4 / 8
2.3
4.0
8 MB
No
2666
23 EUs
1000
All the CPUs are rated at 45W for their base frequency, all support Optane as a drive accelerator, and all support DDR4-2666 in dual channel operation. Moving down from Core i9 to i7 and then to i5 gives a gradual decrease in the L3 cache per core (Intel still uses an inclusive cache in this market), as well as a steady drop in frequencies. The Core i5 parts are quad-core processors, but still retain DDR4-2666 compatibility.
We are told that all of these CPUs are Coffee Lake based, marking the arrival of the Coffee Lake-H family. That being said, there is a disparity between Coffee Lake desktop-based Core i5, which run at six cores and six threads, compared to the Coffee Lake mobile-based Core i5 parts which are quad cores with eight threads. This would allow for the Core i5 parts to be Kaby Lake-Refresh processors, however Intel has confirmed this is not the case, making these the first quad-core with hyperthreading-based Coffee Lake parts.
One of the more anomalous processors in this list is the Core i7-8850H, which Intel has listed as being 'partially' unlocked, compared to the Core i9-8950HK which is fully unlocked. Intel has clarified that this means the Core i7-8850H has the ability to overclock the DRAM and up to 400 MHz on the CPU beyond the standard specifications. From the devices we have seen so far, almost all the laptops that use the Core i9 also have a Core i7-8850H option.
Intel is also enabling vPro on a couple of SKUs: the Core i7-8850H and the Core i5-8400H. The only thing these have in common is that they're the highest-rated SKUs for each segment, but beyond that there is nothing in the naming to suggest there is a pattern.
The Belated Birth of Xeon E
Alongside the consumer processors, Intel is also pushing out two Xeon mobile CPUs with the rest of the 45W stack. This is a little confusing, given that Intel hasn't even officially announced the Xeon E processor line, and that we have known about the name change from Xeon E3 to Xeon E for a good few months now. Nonetheless, the two Xeon E mobile processors are both set for the high end, emulating the Core i9 in performance and support.
AnandTech
Cores
Base
Freq
Turbo
Freq
L3
vPro
DRAM
DDR4
iGPU

iGPU
Turbo
Xeon E-2186M
$623
6 / 12
2.9
4.6 + 0.2
12 MB
Yes
2666 ECC
24 EUs
1200
Xeon E-2176M
$450
6 / 12
2.7
4.4
12 MB
Yes
2666 ECC
24 EUs
1200
The two big advantages for the Xeon E processors are vPro support and ECC memory, however they lose overclocking capabilities. Pricing is, as yet, unknown, however devices with these components will be announced this week.
* Base IGP frequency for all 45W processors is 350 MHz.
Intel recently announced its 'Intel Core with Radeon RX Vega' processor line, featuring a H-series processor combined with an AMD graphics chip and a sizeable amount of high-speed HBM2 memory connected via Intel's proprietary EMIB technology. These parts are designed to service the high-end for integrated graphics, going above and beyond any other integrated graphics solution in the past. That used to be a post held by Intel's processors that used eDRAM, using the Iris, Iris Pro, and Iris Plus branding. Now the Iris line sits in the middle, acting as Intel's graphics focused products in the mid-power range.
For the launch today, Intel is lifting the lid on four separate Iris Plus-based processors. These all use the Coffee Lake microarchitecture and are built on Intel's 14++ process. All four of these processors are in Intel's 'GT3e' graphics configuration, which uses Intel's Gen 9.5 graphics with 48 execution units (EUs) and 128 MB of eDRAM. This is compared to the GT2 configurations seen on most other processors, that have 24 EUs and zero eDRAM.
AnandTech
Cores
Base
Freq
Turbo
Freq
L3
vPro
DRAM
DDR4
iGPU
EUs
iGPU
Freq
Core i7-8559U
$431
4 / 8
2.7
4.5
8 MB
No
2400
48 EUs
300 / 1200
Core i5-8269U
$320
4 / 8
2.6
4.2
6 MB
No
2400
48 EUs
300 / 1100
Core-i5-8259U
$320
4 / 8
2.3
3.8
6 MB
No
2400
48 EUs
300 / 1050
Core i3-8109U
$304
2 / 4
3.0
3.6
4 MB
No
2400
47 EUs
300 / 1000
Intel has split these new CPUs up into a single Core i7-8559U, which is a quad-core processor with the most L3 cache, two Core i5 parts that are also quad-core but have reduced L3 cache, and a Core i3-8109U processor that is dual core, but with the same amount of L3 cache per core as the Core i7-8559U.
In Intel's manufacturing parlance, this means that the Core i7 and Core i5 are all '4+3e' units, meaning four cores and GT3 graphics with eDRAM. By contrast, the Core i3 is a '2+3e' processor, with only two cores but the same GT3e graphics with eDRAM as the i7/i5. Based on the design of these processors, the Core i3 sits as the lower binned part: it is manufactured as a 4+3e design, but due to processor defects is only suitable to run two cores. As with most of the other mobile processors, the higher performance parts often get the highest frequency graphics as well. In this case, the Core i7-8559U sits at the top at 1200 MHz.
For the eDRAM, in previous generations Intel has moved from going all parts at 128 MB to having some move down to 64 MB, but now moves back up to all of them having 128 MB again. For the eDRAM implementation, Intel is still using their second generation eDRAM implementation whereby the eDRAM acts as a L4 buffer for supplying the L3 from DRAM through the System Agent – this is compared to the first generation where the eDRAM was a victim cache. This methodology allows the eDRAM to speed up more use cases than just graphics, and the 50 GBps bidirectional bandwidth is certainly a big leap over main DRAM bandwidth (that some OEMs run in single channel mode anyway). Iris Plus processors can also be equipped with discrete graphics, although this is up to the OEM.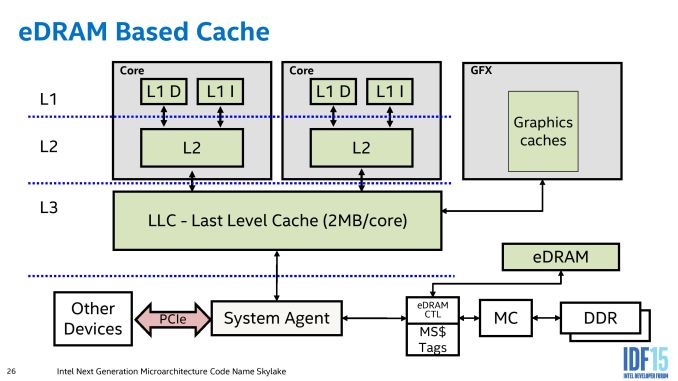 The 28W Iris Plus processors will match the other mobile counterparts on chipset, and support the new features such as integrated Intel 802.11ac Wi-Fi and native USB 3.1 (10 Gbps) support. We do not know to what extent these are supported, and are waiting on more information. The Iris Pro parts will also support Optane-accelerated storage.
The final part of the launch is focused around filling out the processor line-up for the desktop. Intel launched six Coffee Lake-based desktop processors back in October, so we have had almost a five month wait for the rest of the line to see the light of day. In this batch of processors we see the regular and low powered processors that normally sit in Intel's strategy, as well as a number of Pentium and Celeron parts.
AnandTech
Cores
TDP
Freq
L3
vPro
DRAM
DDR4
iGPU
iGPU
Turbo
Core i7-8700K
$359
6 / 12
95 W
3.7 / 4.7
12 MB
No
2666
24 EUs
1200
Core i7-8700
$303
6 / 12
65 W
3.2 / 4.6
12 MB
Yes
2666
24 EUs
1200
Core i7-8700T*
$303
6 / 12
35 W
2.4 / 4.0
12 MB
Yes
2666
24 EUs
1200
For the Core i7 family, the new entrant is the Core i7-8700T. This will be the only six-core processor, with hyperthreading, to fall into the 35W bracket. It features the full L3 cache support, dual channel memory up to DDR4-2666, and is eligible for vPro support. It is worth noting that the 35W TDP value is only valid when the CPU is at its base frequency, which in this case is 2.4 GHz. At the peak turbo of 4.0 GHz, or for all-cores somewhere in the middle (again, Intel won't specify), the power will obviously be higher.
AnandTech
Cores
TDP
Freq
L3
vPro
DRAM
DDR4
iGPU
iGPU
Turbo
Core i5-8600K
$257
6 / 6
95 W
3.6 / 4.3
9 MB
No
2666
24 EUs
1150
Core i5-8600*
$213
6 / 6
65 W
3.1 / 4.3
9 MB
Yes
2666
24 EUs
1150
Core i5-8600T*
$213
6 / 6
35 W
2.3 / 3.7
9 MB
Yes
2666
24 EUs
1150
Core i5-8500*
$192
6 / 6
65 W
3.0 / 4.1
9 MB
Yes
2666
24 EUs
1100
Core i5-8500T*
$192
6 / 6
35 W
2.1 / 3.5
9 MB
Yes
2666
24 EUs
1100
Core i5-8400
$182
6 / 6
65 W
2.8 / 4.0
9 MB
No
2666
24 EUs
1050
Core i5-8400T*
$192
6 / 6
35 W
1.7 / 3.3
9 MB
No
2666
24 EUs
1050
In the Core i5, most of the parts are new. As with the Core i5 desktop parts that are already launched, these have six-cores but do not have multithreading. They have a reduced L3 cache per core compared to the Core i7, and it is worth noting that the base frequency for the processors does not actually get that high – only 3.1 GHz for the Core i5-8600. All of the parts support dual channel DDR4-2666, and all but one processor supports vPro.
AnandTech
Cores
TDP
Freq
L3
vPro
DRAM
DDR4
iGPU
iGPU
Turbo
Core i3-8350K
$168
4 / 4
91 W
4.0
8 MB
No
2400
23 EUs
1150
Core i3-8300*
$138
4 / 4
65 W
3.7
8 MB
No
2400
23 EUs
1150
Core i3-8300T*
$138
4 / 4
35 W
3.2
8 MB
No
2400
23 EUs
1100
Core i3-8100
$117
4 / 4
65 W
3.6
6 MB
No
2400
23 EUs
1100
Core i3-8100T*
$117
4 / 4
35 W
3.1
6 MB
No
2400
23 EUs
1100
There are only three new members of the Core i3 section, all of which are quad-core processors. The two Core i3-8300/T parts have the peak 2MB L3 per core, while the Core i3-8100T only has 1.5 MB L3 per core. These parts are all reduced in memory frequency as well, supporting dual-channel DDR4-2400. Intel has no vPro parts in the Core i3 line, but all the Core i3 SKUs will support Optane.
AnandTech
Cores
TDP
Freq
L3
DRAM
DDR4
iGPU
iGPU
Turbo
Pentium Gold G5600
$86
2 / 4
54 W
3.9
4 MB
2400
UHD 630
350 / 1100
Pentium Gold G5500
$75
2 / 4
54 W
3.8
4 MB
2400
UHD 630
350 / 1100
Pentium Gold G5500T
$75
2 / 4
35 W
3.2
4 MB
2400
UHD 630
350 / 1100
Pentium Gold G5400
$64
2 / 4
54 W
3.7
4 MB
2400
UHD 630
350 / 1050
Pentium Gold G5400T
$64
2 / 4
35 W
3.1
4 MB
2400
UHD 630
350 / 1050
The Pentium Gold processors fit in where the older Core i3 processors once stood: dual core with hyperthreading. Intel rates the 'full speed' models at 54W, while the lower-power T-models are at 35W. One of the bigger disadvantages of these parts is the lack of Optane support, plus also the DDR4-2400 memory support, however they do fill up the lower cost market. Intel differentiates the Pentium Gold as having the latest Core microarchitecture compared to Pentium Silver which uses the Atom core design.
AnandTech
Cores
TDP
Freq
L3
DRAM
DDR4
iGPU
iGPU
Turbo
Celeron G4920
$52
2 / 2
54 W
3.2
2 MB
2400
UHD 610
350 / 1050
Celeron G4900
$42
2 / 2
54 W
3.1
2 MB
2400
UHD 610
350 / 1050
Celeron G4900T
$42
2 / 2
35 W
2.9
2 MB
2400
UHD 610
350 / 1000
No real fancy words for Celeron here: these are Intel's dual core designs for the cheapest Intel-based PCs. Just pair one up with a H310 motherboard, a single stick of memory, and a cheap HDD, and there's a PC. What is different is that Intel has dropped the 'G' in the SKU name in the document they gave us (such as G4920). We have seen other documents from Intel that have the G, so we need see why there is a discrepancy.
Update: ARK confirms that all the Celerons have 'G' in the name.
* New Parts
** Blank spots in tables will be filled in as we get information
Per-Core Turbo Ratios
Due to some sleuthing, and despite Intel's insistence these are proprietary information, we have all the official per-core turbo ratios for this processors.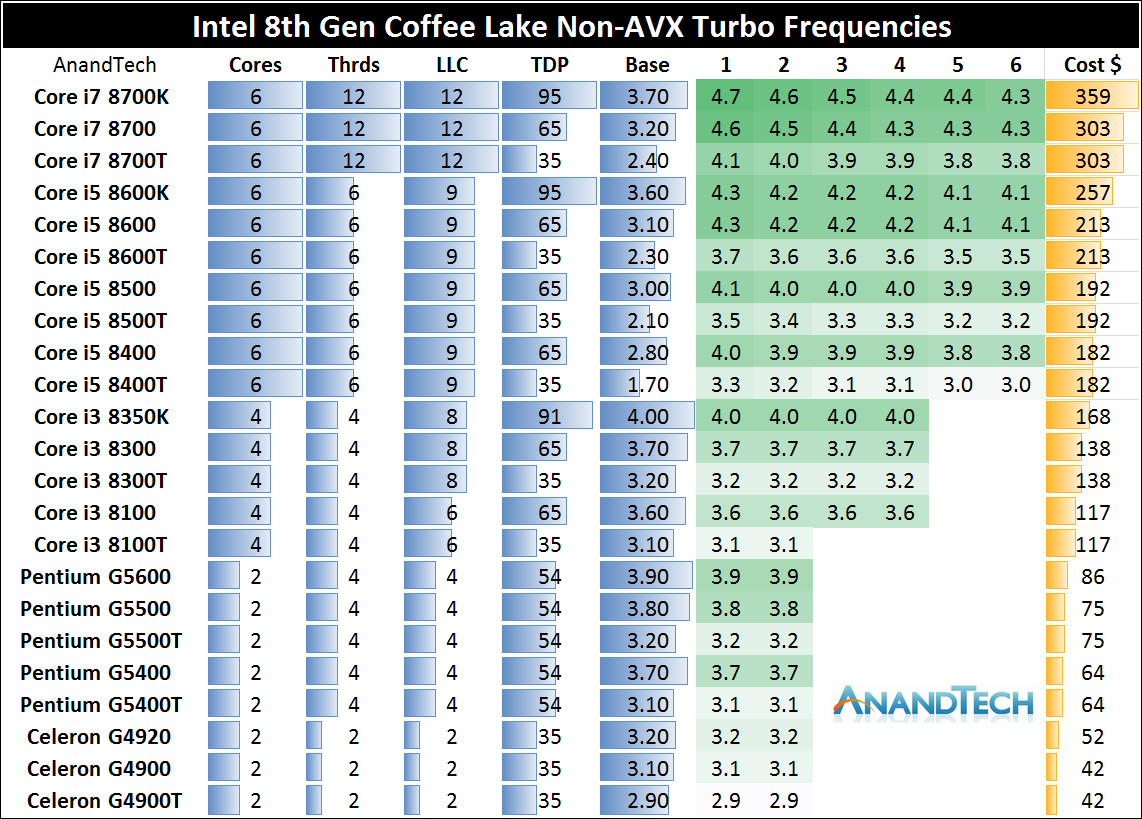 The most interesting element to these values are the 35W low-powered T processors. In each case, the all core turbo is much, much higher than the base frequency. For example, the Core i5-8400T has a base frequency of 1.70 GHz, but the all-core turbo is set at 3.0 GHz – almost double. Given the fact that TDP is defined at the base frequency, it is quite clear that the all-core turbo mode suggested to motherboard manufacturers is going to blow that 35W limit on the i5-8400T.
Core i9+, Core i7+, Core i5+, Core i3+
One of the items that Intel is keen to promote with this launch is an update to its Intel RST algorithm when dealing with 'Optane Memory', Intel's brand for Optane whereby a small amount of storage is placed in front of a larger drive to act as a fast cache. Up to this point, Intel platforms that supported Optane Memory in this configuration could only do so on the drive that was used to boot into the operating system. While this worked well for low-cost users that relied on a single rotational hard-disk drive of rust for their needs, with most enthusiasts using a fast SSD (SATA or PCIe) as their first drive that loads the OS, putting Optane Memory in front of this as a cache was relatively pointless – any gains would be intangible at best. With the new generation of products, Intel has expanded the capabilities of Optane Memory such that it can act as a cache for a non-OS drive. This means that a user can have a fast SSD boot drive, a large spinning drive for storage, and then place Optane in front of that storage drive to potentially get much better performance from the drive.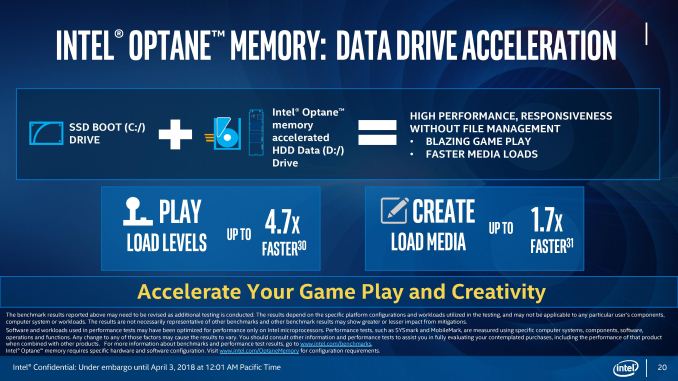 The main idea here is that the large rotational drive is where users store games and large files used in content creation, which often have a long loading time. With the right caching algorithm, and a decent sized Optane Memory drive, Intel likes to promote that loading games and loading media for creative purposes are several factors faster than an equivalent system without an Optane Memory drive.
Part of the news around Optane is that Intel is now creating new processor branding for OEMs that have configurations with Optane. The new brands and logos are similar to the standard Core i5/i7 style that we are used to, however the logos are now a dark blue with white text, and exhibit a plus after the Core i5/i7 name.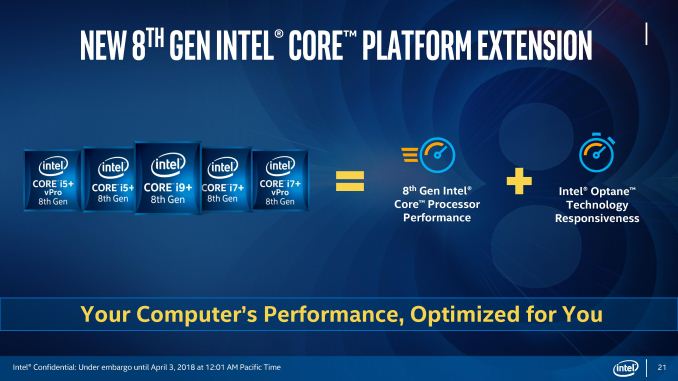 So just to be clear, this is not a new line of processors. We will not have to suddenly deal with a Core i9+-8950HK being different to the non-plus counterpart. This is purely a branding exercise. However, to complicate things, this means that specification sheets can (and will) list the processors as Core i3+ and Core i7+ and even vPro models. This makes looking for particular processor versions in search engines a lot more difficult for almost no obvious benefit. I mean sure, Intel wants to promote the use of its Optane drives, but we already have the Optane branding and the Optane logos to do that for us. This ends up being another logo put onto the box.

Ultimately, Intel is still marketing Optane, its high-cost R&D product, with low capacities at low cost systems with relatively little margin. While it might seem like a noble goal, to bring extra caching performance down to the lower cost segment, it could very easily be done with SATA or PCIe M.2 drives using regular NAND flash. A lot of users would like to see high-capacity, high-endurance Optane drives moving more into the mainstream, instead of more attempts at funneling in a product like Optane into caching.
One of the motherboards we were sampled early was the GIGABYTE H370N-WiFi. This is GIGABYTE's latest mini-ITX motherboard, and in this case using the H370 chipset – traditionally GIGABYTE's H-series mini-ITX boards implement additional features, such as HDMI 2.0, and in this case, Wi-Fi.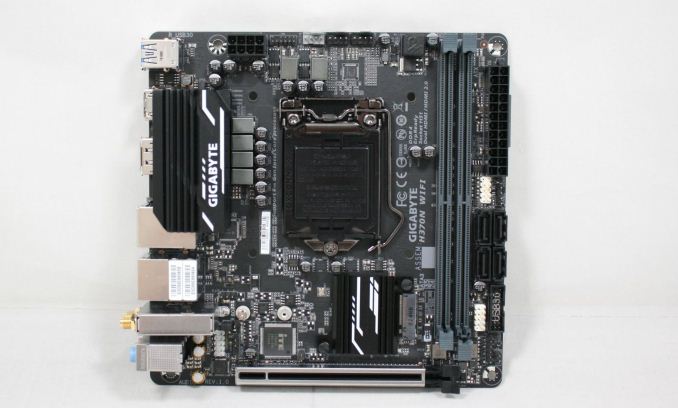 The initial viewing of the board is one implemented more in function than overall style. The four-phase power delivery has a heatsink, the CPU is powered by an 8-pin 12V header, and the full length PCIe slot is shielded. GIGABYTE has two full-length DDR4 slots on this model, using double sided latches, and there are four SATA ports on the right hand side of the board out of a possible six that the chipset supports.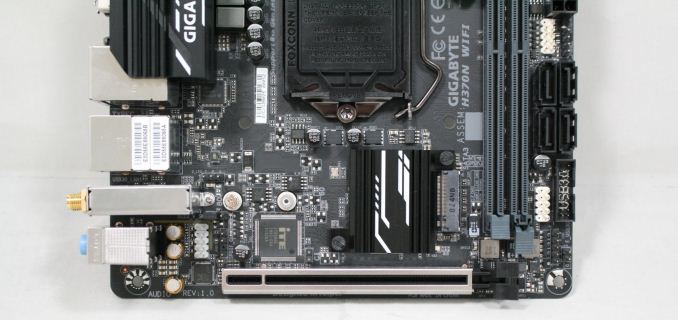 For storage, we get an M.2 2280 slot that sits above the chipset heatsink on the front, and another on the rear: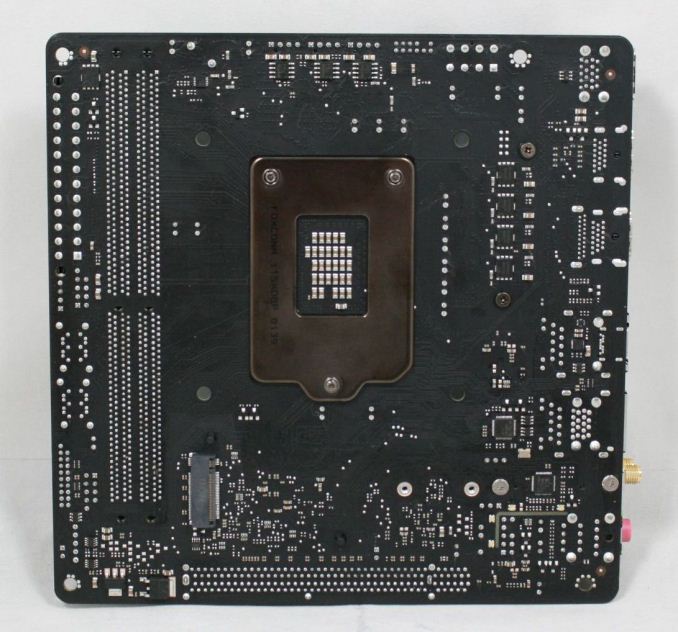 The two key parts on this motherboard that are going to be a little interesting start with the HDMI 2.0 implementation.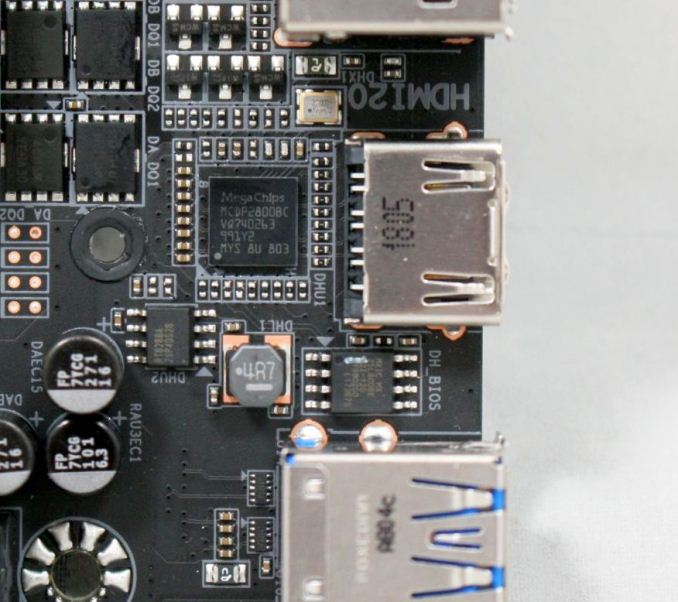 Here GIGABYTE is using the MegaChips MCDP2800 chip as an LSPCon to enable HDMI 2.0 from the processor. This is fairly common for HDMI 2.0, although due to the added LSPCon cost, we still only see it on a few motherboards – mostly GIGABYTE boards.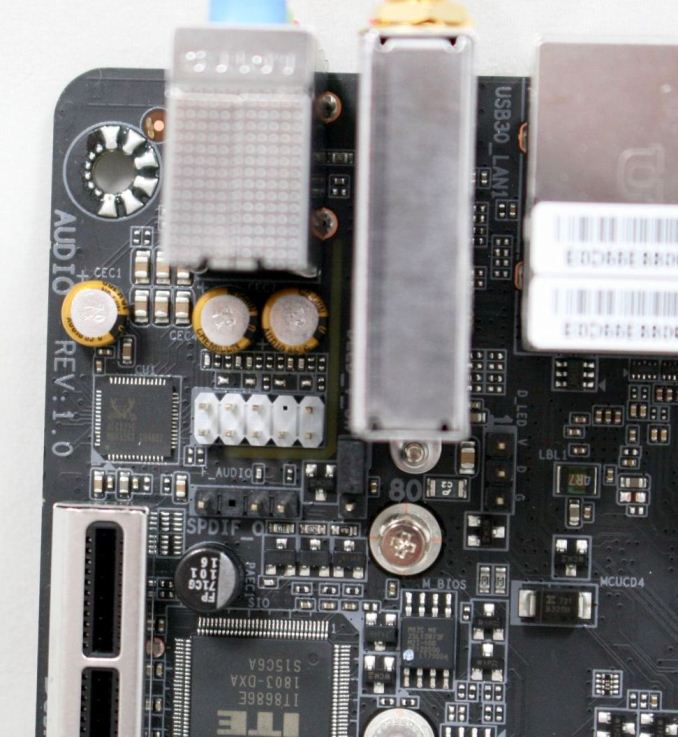 The other thing to note will be the Wi-Fi implementation. As the H370 chipset will support a native wireless solution, it all comes down to which companion RF model GIGABYTE has chosen. A quick look in the device manager shows this: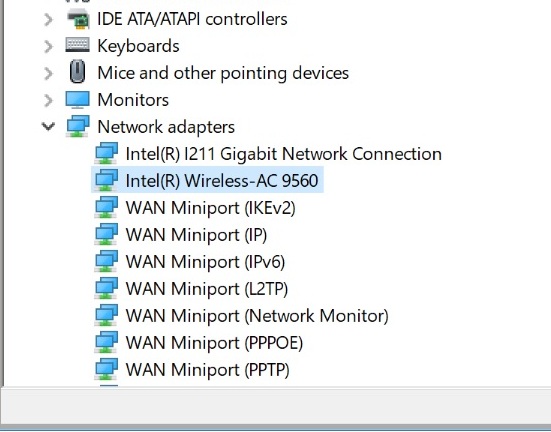 Here Intel is using the AC-9560, which is Intel's 2×2 802.11ac Wave 2 (160 MHz) solution – the high cost one.

Another feature on the new motherboards will be the USB 3.1 Gen 2 (10 Gbps) support. Here we see GIGABYTE not bothering with the fastest USB 3.1 implementation – all the ports here are USB 3.1 Gen 1 (5 Gbps) standard – even the port being enabled via a Type-C redriver. This means that this board could be seen as just a refresh of the 200-series version, with only the chipset changed to support the new processors. The motherboard does not have additional front panel headers for 10 Gbps either, meaning that this board uses exactly zero of the four that the chipset supports.
Elsewere on the board we spot the dual NICs, powered by Intel I219-V and Intel I211-AT controllers.
The audio, despite being a 3-plug stack, is powered by the Realtek ALC1220 codec.
In our box with the board, aside from the usual CD/manual/IO shield, we also got two SATA cables and a pair of Wi-Fi antenna. Nothing overly complex.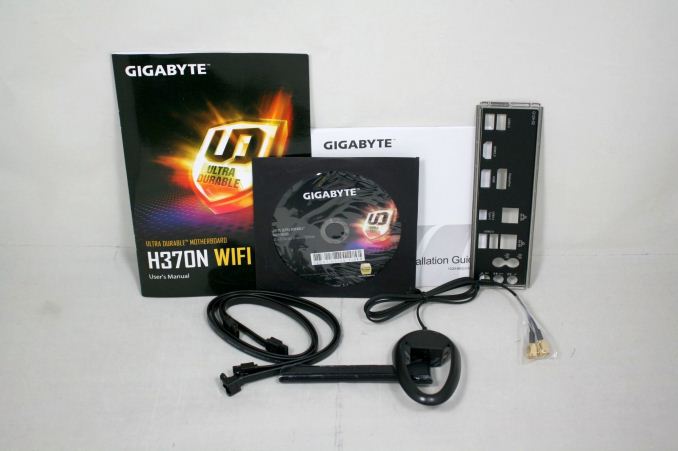 Source link