Everyone needs a distraction now and then, so here are some things we spotted in the news that put a little smile on our faces this week.
We hope they do the same to you.
1) This big fan
Former US First Lady Michelle Obama met, and danced with, two-year-old Parker Curry this week.
Parker went viral after her mum posted a photograph of her mesmerised by Mrs Obama's official painting.
"Maybe one day I'll proudly look up at a portrait of you," the former first lady wrote on Twitter.
2) These inspiring snow stories
Amid the heavy snow and icy temperatures Europe was facing this week, a baby hare was spotted by staff at Dublin airport.
They named her Emma, after the storm she was rescued from.
People went the extra mile for other people too. There were stories of UK National Health Service (NHS) workers all around the country battling through snow and storm conditions to get to work.
Surgeon Lindsey Chisholm has been dubbed "superwoman" for walking eight miles through "red alert" conditions in Scotland to treat cancer patient Ian McAndrew.
3) These technology tantrums
After just one day at work in a Cali Burger outlet in the US, Flippy the burger-flipping robot was taken offline because he was apparently too slow at his job.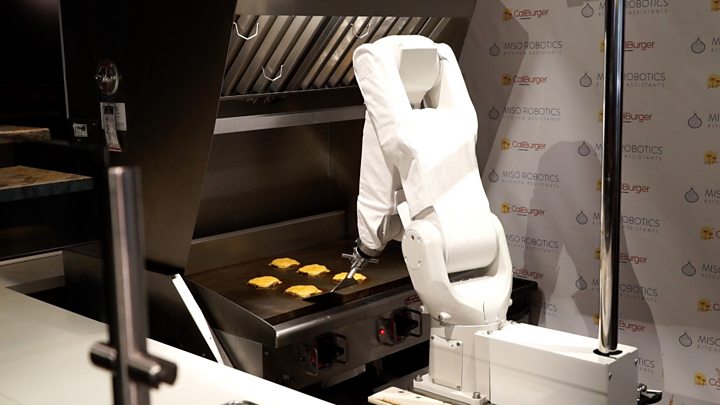 In other tech news, Amazon Alexa voice assistants have been scaring their owners by letting out "witch-like" creepy laughs unprompted.
4) This rescue chimp on a plane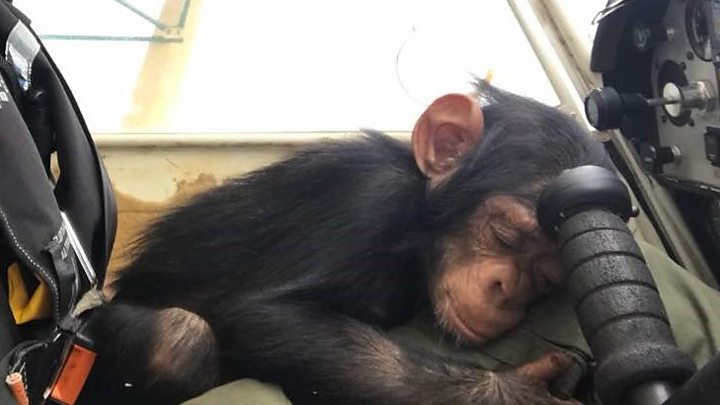 This video of Mussa, an orphaned chimpanzee rescued from poachers in Africa travelling to safety, is enough put a smile on the sternest of faces.
5) This inspiring fundraiser
A charity set up in the name of Philando Castille, shot dead by police in Minnesota in 2016, has wiped out the school lunch debt of every child in his local school district.
Before his death, "Mr Phil", as he was known, supervised a lunch programme in a local elementary school and often paid out of his own pocket for children who couldn't afford it.
Philando Feeds the Children bypassed all expectations and fundraising targets – and has raised enough to pay off the lunch debts of 37,000 children in 56 school districts.
6) These hiding penguins
It has been a good week for penguins since scientists stumbled across more than 1.5 million previously unknown Adélie birds in the Antarctic.
Elsewhere, some Emperor ones were not so shy of the camera.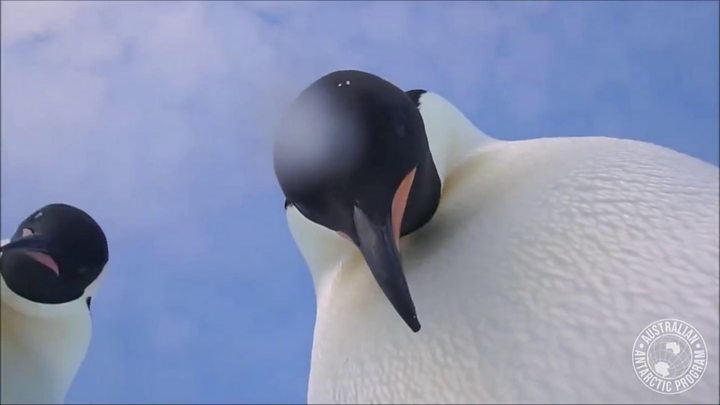 7) The world's women
Demonstrations took place for gender equality all around the world for International Women's Day.
In its honour, Mattel launched a "Shero" Barbie range, designed to honour inspiring women and historical figures including Amelia Earhart, Frida Kahlo and Katherine Johnson.
Elsewhere, on a royal visit to the British city of Birmingham marking the occasion, Megan Markle made a young girl's "dream come true" and McDonalds flipped their iconic "M" into a "W".
More on International Women's Day:
Source link