About 7,000 people have stopped making regular donations to Oxfam since it emerged some of its staff used prostitutes in Haiti, MPs have heard.
Oxfam boss Mark Goldring apologised to the International Development Committee for the damage done to people in Haiti and the wider efforts of aid workers.
He said 26 claims of sexual misconduct were made since the scandal broke.
Save the Children chief executive Kevin Watkins told MPs the charity had investigated 53 allegations in 2016.
Mr Goldring and two other senior Oxfam executives, faced an uncomfortable morning of questions from MPs about the sexual misconduct of the charity's workers in Haiti after the earthquake in 2010.
He also apologised for remarks made about murdering babies in cots, which he made when defending Oxfam.
In an interview with the Guardian last week, he said: "The intensity and ferocity of the attack makes you wonder, what did we do? We murdered babies in their cots?"
Mr Goldring, who joined the charity as chief executive in 2013, said he was "deeply sorry" for the comments that he had made while "under stress".
The urgent session, called by the committee in response to allegations appearing earlier this month in the Times newspaper, was marked by repeated apologies.
Oxfam, which has almost 10,000 staff working in more than 90 countries, has denied a cover-up but its handling of the scandal is being investigated by the Charity Commission.
Since the story broke, Mr Goldring said 26 reports of recent and historic incidents have been made by Oxfam workers – 16 of them outside the UK.
Of the scandal, he said: "I am sorry, we are sorry, for the damage Oxfam has done both to the people of Haiti but also to wider efforts for aid and development by possibly undermining public support."
He denied there had been a cover-up, saying Oxfam had been trying to deliver a huge programme with 500 staff and his predecessors would have believed they were making the right decision at the time. "I don't defend that decision," he said.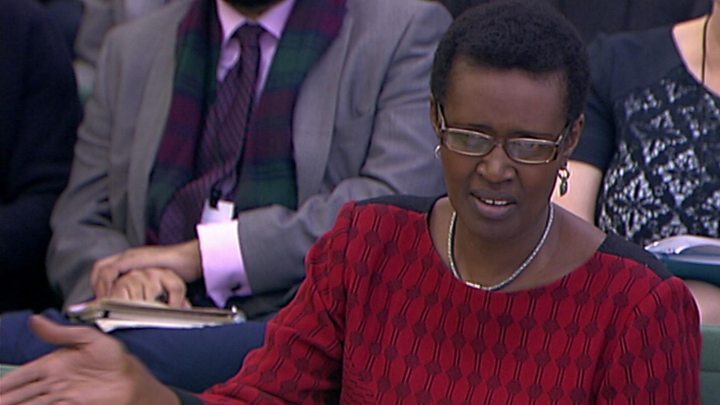 Mr Goldring told MPs that at the time of the original investigation, Oxfam issued a press release revealing its findings of "serious misconduct" involving bullying, intimidation and breaches of the charity's code of conduct – but did not mention sexual exploitation.
"At the time, people thought that was being transparent. We know now that that was not enough," said Mr Goldring.
"I suspect there was a balance of saying 'Oxfam is delivering life-saving assistance to a million people in Haiti. We have got to keep that work going'."
He added that Oxfam had wrongly believed it was being proactive. "Not every organisation chooses to tell the public about something they got wrong," he said.
Caroline Thomson, the chair of trustees, and Winnie Byanyima, executive director of Oxfam International, both told the committee they were "ashamed" of what happened in Haiti.
Ms Byanyima said she has spent her life protecting women. "This is painful for me," she added.
Ms Thomson, who became chairwoman of Oxfam's trustees in 2017, said the charity council's task was to ensure it is "never again" at risk of being perceived to have put reputation over accountability.
Mr Goldring said there was now a safeguarding team and helpline at Oxfam and the charity was seeking more independent support.
Get news from the BBC in your inbox, each weekday morning
Committee chairman Stephen Twigg said his committee would conduct a full inquiry into sexual misconduct in the aid sector in the wake of the scandal.
Save the Children's Mr Watkins told the committee said his charity had produced two reports warning that "predatory men" were seeking to use aid work as an opportunity for abuse.
"What has come to light over the past few weeks cautions all of us against complacency," he said.
He said Save the Children has been pushing for an "international humanitarian passport", which could be revoked if aid workers breach rules.
Mr Watkins said of the 53 "safeguarding cases" it had investigated in 2016, 20 files had been passed to police and 11 staff members had been dismissed.
He added across Save The Children UK and International there were 35 cases of staff harassment reported and 19 staff dismissed.
Addressing the committee, Matthew Rycroft, the Permanent Secretary at the Department for International Development, said the Oxfam case had created a "huge crisis for the aid sector."
He said it was important to "do a better job" at explaining to the British people why that aid commitment is "a good thing".
'Bullying and intimidation'
A redacted version of an internal Oxfam report from 2011, released on Monday, revealed that three of the men accused of sexual misconduct in Haiti physically threatened witnesses during an investigation.
It also showed:
One Oxfam employee was dismissed and three resigned for using prostitutes on Oxfam premises. The use of underage prostitutes was not ruled out
Two more were dismissed for bullying and intimidation – one of whom also downloaded pornography
Another man was sacked for failing to protect staff
During the committee hearing, it emerged that one of them was re-employed for Oxfam on a short-term contract in another country.
In the report, the charity said director of operations in Haiti, Roland Van Hauwermeiren, "admitted using prostitutes" at his Oxfam residence. Last week, he denied paying prostitutes for sex.
He was granted a "phased and dignified exit" and was allowed to resign, the report added, so long as he fully co-operated with the rest of the 2011 investigation.
It is not known if he was one of the suspects accused of threatening witnesses.
---
Do you have any information related to this story that you wish to share? Please email haveyoursay@bbc.co.uk.
Please include a contact number if you are willing to speak to a BBC journalist. You can also contact us in the following ways:
WhatsApp: +447555 173285
Tweet: @BBC_HaveYourSay
Send an SMS or MMS to 61124 or +44 7624 800 100
Source link